RedHill Biopharma Receives FDA Approval for COVID-19 Clinical Study with Opaganib in the U.S.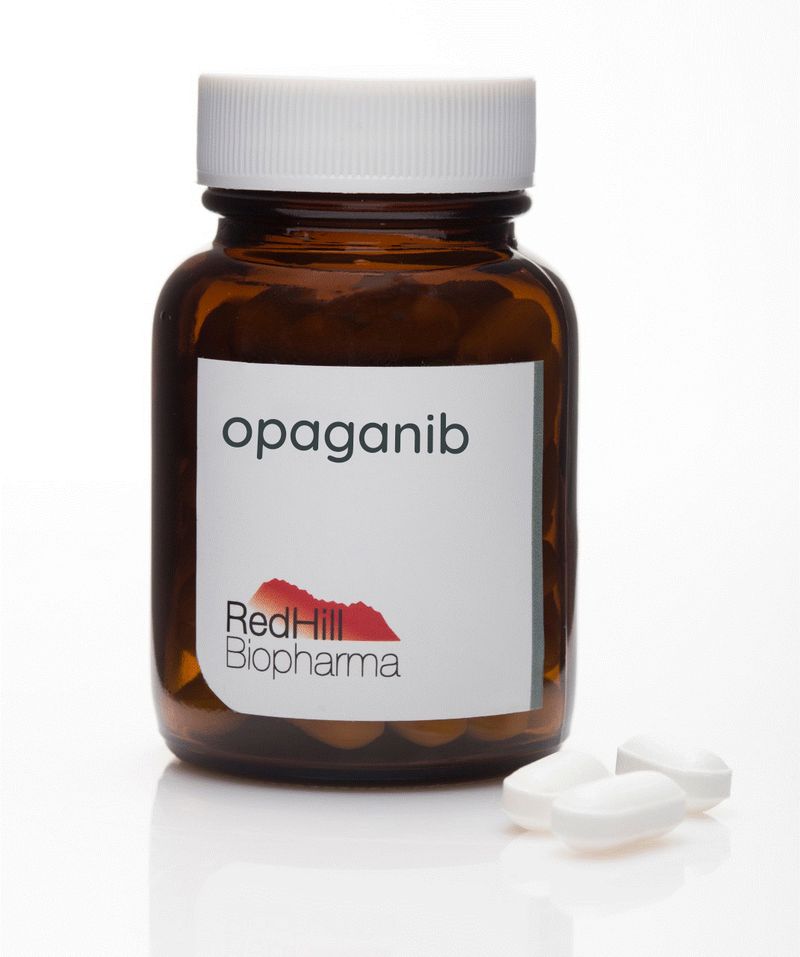 TEL-AVIV, Israel and RALEIGH, NC, May 8, 2020 -- RedHill Biopharma Ltd. (Nasdaq: RDHL) ("RedHill" or the "Company"), a specialty biopharmaceutical company, today announced that the U.S. Food and Drug Administration (FDA) has approved its Investigational New Drug (IND) application for a Phase 2a clinical study evaluating its investigational drug, opaganib (Yeliva®, ABC294640)1, in patients with confirmed moderate-to-severe SARS-CoV-2 infection (the cause of COVID-19).
Kevin Winthrop, MD, M.P.H., Professor of Infectious Diseases and Public Health at the OHSU-PSU School of Public Health and Principal Investigator of the study, said: "We are pleased to offer opaganib to hospitalized patients as part of a clinical study and are hopeful to meet the strong unmet need for treatments to decrease the severity and duration of respiratory symptoms due to COVID-19."
Mark L. Levitt, MD, Ph.D., Medical Director at RedHill, added: "We are grateful to the FDA for the timely review of our IND and look forward to initiating the study. There is a strong scientific rationale for the potential efficacy of opaganib in the treatment of COVID-19, including pre-clinical data demonstrating that opaganib may inhibit viral replication and reduce levels of IL-6 and TNF-alpha, important mediators of inflammation that are elevated in moderate-to-severe COVID-19 patients. This is coupled with encouraging preliminary data from the compassionate use program in Israel, which demonstrated objective measurable clinical improvement in all six patients analyzed, including a decrease in required supplemental oxygenation, higher lymphocyte counts, and decreased CRP levels."
A total of 139 subjects have been dosed with opaganib to date in ongoing and completed Phase 1 and Phase 2 clinical studies in oncology indications, in pharmacokinetic studies in healthy volunteers in the U.S., under the existing FDA-approved expanded access requests from physicians for individual oncology patients and under expanded access for COVID-19 patients in Israel, establishing safety and tolerability in humans both in the U.S. and ex-U.S.
The randomized, double-blind, placebo-controlled Phase 2a study aims to enroll up to 40 patients with moderate-to-severe SARS-CoV-2 infection and pneumonia requiring hospitalization and supplemental oxygenation. The Company expects to promptly initiate patient enrollment. Patients will be randomized at a 1:1 ratio to receive either opaganib or placebo on-top of standard-of-care. The primary objective of the study is to evaluate the reduction in total oxygen requirement over the course of treatment for up to 14 days. Secondary endpoints include time to 50% reduction in oxygen requirements, the proportion of patients without fever at Day 14, and proportion with negative nasal swabs at Day 14. This clinical trial is not powered for statistical significance.
Preliminary findings from six moderate-to-severe COVID-19 patients treated with opaganib in Israel under compassionate use have shown that all the patients demonstrated both subjective and objective significant measurable clinical improvement within days following treatment initiation with opaganib, including decreased required supplemental oxygenation, higher lymphocyte counts and decreased C-reactive protein (CRP) levels. All six patients analyzed were weaned from oxygen and discharged from the hospital. Opaganib has been well tolerated and showed clinical improvement both with and without hydroxychloroquine. At the time of treatment initiation, all of the patients were hospitalized, suffered from moderate-to-severe acute respiratory symptoms related to SARS-CoV-2 infection, were hypoxic, and required supplemental oxygen while being treated with standard-of-care, mostly hydroxychloroquine.
To find out more about RedHill Biopharma's Expanded Access policy, please visit: www.redhillbio.com/expandedaccess.
Pre-clinical data have demonstrated both anti-inflammatory and anti-viral activities of opaganib, with the potential to reduce lung inflammatory disorders, such as pneumonia, and mitigate pulmonary fibrotic damage. Several prior pre-clinical studies support the potential role of sphingosine kinase-2 (SK2) in the replication-transcription complex of positive-strand single-stranded RNA viruses, similar to coronavirus, and its inhibition may potentially inhibit viral replication. Pre-clinical in vivo studies2 have demonstrated that opaganib decreased fatality rates from influenza-virus infection and ameliorated Pseudomonas aeruginosa-induced lung injury by reducing the levels of IL-6 and TNF-alpha in bronchoalveolar lavage fluids.
About Opaganib (ABC294640, Yeliva®)
Opaganib, a new chemical entity, is a proprietary, first-in-class, orally-administered, sphingosine kinase-2 (SK2) selective inhibitor with anticancer, anti-inflammatory and anti-viral activities, targeting multiple oncology, inflammatory and gastrointestinal indications. By inhibiting SK2, opaganib blocks the synthesis of sphingosine 1-phosphate (S1P), a lipid-signaling molecule that promotes cancer growth and pathological inflammation. By inhibiting SK2, opaganib potentially blocks viral replication complex and pathological inflammation. Opaganib was originally developed by U.S.-based Apogee Biotechnology Corp. and completed multiple successful pre-clinical studies in oncology, inflammation, GI and radioprotection models, as well as a Phase 1 clinical study in cancer patients with advanced solid tumors. Opaganib received Orphan Drug designation from the U.S. FDA for the treatment of cholangiocarcinoma and is being evaluated in a Phase 1/2a in advanced cholangiocarcinoma and in a Phase 2 study in prostate cancer. Opaganib is also being evaluated for the treatment of coronavirus (COVID-19). The development of opaganib has been supported by grants and contracts from U.S. federal and state government agencies awarded to Apogee Biotechnology Corp., including from the NCI, BARDA, the U.S. Department of Defense and the FDA Office of Orphan Products Development.
About RedHill Biopharma
RedHill Biopharma Ltd. (Nasdaq: RDHL) is a specialty biopharmaceutical company primarily focused on gastrointestinal diseases. RedHill promotes the gastrointestinal drugs Movantik® for opioid-induced constipation in adults3, Talicia® for the treatment of Helicobacter pylori (H. pylori) infection in adults4 and Aemcolo® for the treatment of travelers' diarrhea in adults5. RedHill's key clinical late-stage development programs include: (i) RHB-104, with positive results from a first Phase 3 study for Crohn's disease; (ii) RHB-204, with a planned pivotal Phase 3 study for pulmonary nontuberculous mycobacteria (NTM) infections; (iii) RHB-102 (Bekinda®), with positive results from a Phase 3 study for acute gastroenteritis and gastritis and positive results from a Phase 2 study for IBS-D; (iv) Opaganib (Yeliva®), a first-in-class SK2 selective inhibitor, targeting multiple indications, with an ongoing Phase 1/2a study for cholangiocarcinoma and a development program for COVID-19; (v) RHB-106, an encapsulated bowel preparation, and (vi) RHB-107, a Phase 2-stage first-in-class, serine protease inhibitor, targeting cancer and inflammatory gastrointestinal diseases. More information about the Company is available at www.redhillbio.com.
1 Opaganib is an investigational new drug, not available for commercial distribution.
2 Xia C. et al. Transient inhibition of sphingosine kinases confers protection to influenza A virus infected mice. Antiviral Res. 2018 Oct; 158:171-177. Ebenezer DL et al. Pseudomonas aeruginosa stimulates nuclear sphingosine-1-phosphate generation and epigenetic regulation of lung inflammatory injury. Thorax. 2019 Jun;74(6):579-591.
3 Full prescribing information for Movantik® (naloxegol) is available at: www.Movantik.com.
4 Full prescribing information for Talicia® (omeprazole magnesium, amoxicillin, and rifabutin) is available at: www.Talicia.com.
5 Full prescribing information for Aemcolo® (rifamycin) is available at: www.Aemcolo.com.
Source: RedHill Biopharma Ltd.