Pfizer and BioNTech to Co-Develop Potential COVID-19 Vaccine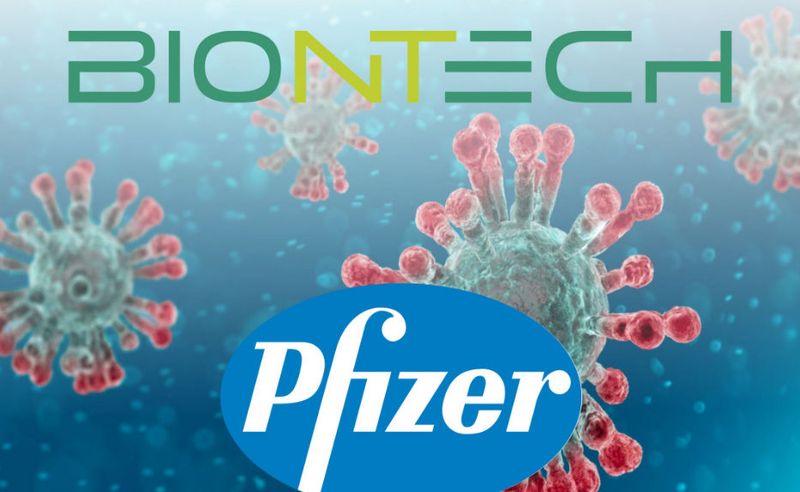 Tuesday, March 17, 2020 - NEW YORK & MAINZ, Germany--(BUSINESS WIRE) -- Pfizer Inc. (NYSE: PFE, "Pfizer") and BioNTech SE (Nasdaq: BNTX, "BioNTech") today announced that the companies have agreed to a letter of intent regarding the co-development and distribution (excluding China) of a potential mRNA-based coronavirus vaccine aimed at preventing COVID-19 infection. The companies have executed a Material Transfer and Collaboration Agreement to enable the parties to immediately start working together.
The collaboration aims to accelerate development of BioNTech's potential first-in-class COVID-19 mRNA vaccine program, BNT162, which is expected to enter clinical testing by the end of April 2020. The rapid advancement of this collaboration builds on the research and development collaboration into which Pfizer and BioNTech entered in 2018 to develop mRNA-based vaccines for prevention of influenza.
"We are proud that our ongoing, successful relationship with BioNTech gives our companies the resiliency to mobilize our collective resources with extraordinary speed in the face of this worldwide challenge," said Mikael Dolsten, Chief Scientific Officer and President, Worldwide Research, Development & Medical, Pfizer. "We believe that by pairing Pfizer's development, regulatory and commercial capabilities with BioNTech's mRNA vaccine technology and expertise as one of the industry leaders, we are reinforcing our commitment to do everything we can to combat this escalating pandemic, as quickly as possible."
"This is a global pandemic, which requires a global effort. In joining forces with our partner Pfizer, we believe we can accelerate our effort to bring a COVID-19 vaccine to people around the world who need it," said Ugur Sahin, Co-Founder and CEO of BioNTech.
The companies expect to utilize multiple research and development sites from both companies, including in the United States and Germany, to house the activities identified by the collaboration agreement.
The companies will begin collaborating immediately. They will finalize details of the agreement regarding financial terms, and all activities related to development, manufacturing and potential commercialization over the next few weeks.
On March 13, 2020, Pfizer issued a five-point plan calling on the biopharmaceutical industry to join the company in committing to unprecedented collaboration to combat COVID-19.
About Pfizer: Breakthroughs That Change Patients' Lives
At Pfizer, we apply science and our global resources to bring therapies to people that extend and significantly improve their lives. We strive to set the standard for quality, safety and value in the discovery, development and manufacture of health care products, including innovative medicines and vaccines. Every day, Pfizer colleagues work across developed and emerging markets to advance wellness, prevention, treatments and cures that challenge the most feared diseases of our time. Consistent with our responsibility as one of the world's premier innovative biopharmaceutical companies, we collaborate with health care providers, governments and local communities to support and expand access to reliable, affordable health care around the world. For more than 150 years, we have worked to make a difference for all who rely on us. We routinely post information that may be important to investors on our website at www.Pfizer.com. In addition, to learn more, please visit us on www.Pfizer.com and follow us on Twitter at @Pfizer and @Pfizer News, LinkedIn, YouTube and like us on Facebook at Facebook.com/Pfizer.
About BioNTech
Biopharmaceutical New Technologies (BioNTech) is a next generation immunotherapy company pioneering novel therapies for cancer and other serious diseases. The company exploits a wide array of computational discovery and therapeutic drug platforms for the rapid development of novel biopharmaceuticals. Its broad portfolio of oncology product candidates includes individualized and off-the-shelf mRNA-based therapies, innovative chimeric antigen receptor T cells, bi-specific checkpoint immuno-modulators, targeted cancer antibodies and small molecules. Based on its deep expertise in mRNA vaccine development and in-house manufacturing capabilities, BioNTech and its collaborators are developing multiple mRNA vaccine candidates for a range infectious diseases alongside its diverse oncology pipeline. BioNTech has established a broad set of relationships with multiple global pharmaceutical collaborators, including Eli Lilly and Company, Genmab, Sanofi, Bayer Animal Health, Genentech, a member of the Roche Group, Genevant, Fosun, and Pfizer.
Source: Pfizer Inc.