FDA Grants Orphan Drug Designation for PVSRIPO for the Treatment of Advanced Melanoma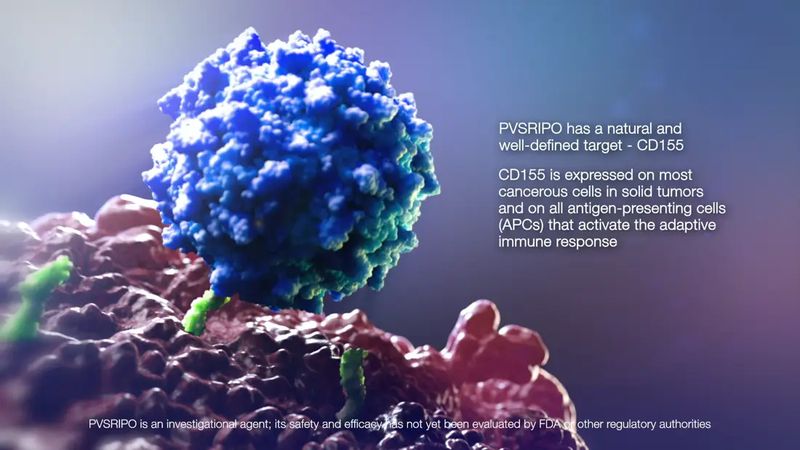 DURHAM, NC, January 10, 2021 -- Istari Oncology, Inc., a clinical-stage biotechnology company, today announced that the U.S. Food and Drug Administration (FDA) has granted orphan drug designation for PVSRIPO for the treatment of advanced melanoma (stage IIB-IV). PVSRIPO is a novel viral immunotherapy, based on the Sabin type 1 polio vaccine, that activates a patient's innate and adaptive immune system to facilitate an anti-tumor response and establish long-term immunologic memory to help prevent the cancer's return.
"We are happy to kick off the new year with the announcement that our request for an orphan drug designation has been granted to PVSRIPO for the treatment of advanced melanoma," said Matt Stober, President and Chief Executive Officer at Istari Oncology. "This is just one of many milestones to come in 2021 as we continue to drive the clinical development of PVSRIPO across multiple indications."
Currently, Istari is recruiting for LUMINOS-102, a Phase 2 open-label, randomized trial (clinicaltrials.gov NCT04577807) in patients with advanced, unresectable melanoma who previously failed anti-PD1 therapy. This study will characterize the safety, tolerability, and initial efficacy of PVSRIPO intratumoral injection alone and in combination with a PD-1 inhibitor. The first patient is expected to be dosed this quarter.
LUMINOS-102 follows a successful Phase 1 monotherapy study of PVSRIPO in anti-PD1 refractory advanced melanoma in which patients who received 3 injections (6/12) had an overall response rate of 67% (4/6).
"We are encouraged by the data from our Phase 1 trial presented at last year's Society for Immunotherapy of Cancer (SITC) 2020 annual meeting" said Garrett Nichols, MD, MS, Chief Medical Officer at Istari Oncology. "We plan to build upon that success with LUMINOS-102. As those data and the data from our other solid tumor trials emerge, we will continue to work closely with the FDA toward the goal of bringing PVSRIPO to market."
Melanoma is the deadliest type of skin cancer today with approximately 7,000 deaths in the U.S. each year. Treatment-resistant, advanced melanoma patients have very poor survival rates, with less than 28% of metastatic melanoma patients surviving 5 years1. PVSRIPO aims to address the significant unmet need in advanced melanoma, since most patients are treated with checkpoint inhibitors, and many do not respond or later become resistant and require other options, which are limited.
Orphan drug designation is granted by the FDA Office of Orphan Products Development (OOPD) to drugs or biological products intended for the treatment of rare diseases or conditions that impact fewer than 200,000 people in the U.S. This designation acts as a stimulus for the development of drugs for rare diseases through several incentives, including eligibility for federal grants, research and development tax credits, waiver of filing fees, and the potential for a seven-year marketing exclusivity period after FDA approval.
The granting of an orphan drug designation does not alter the standard regulatory requirements and process for obtaining marketing approval. More information about orphan drug designation can be found on the OOPD website.
For more information about Istari Oncology and their ongoing clinical trials, visit istarioncology.com.
About PVSRIPO
PVSRIPO is a virus based on the live attenuated Sabin type 1 polio vaccine that has been genetically modified for safety. Unlike other viral immunotherapies, PVSRIPO has a distinct target (the poliovirus receptor CD155), which is widely expressed in neoplastic cells of most solid tumors. Via CD155, PVSRIPO targets tumors with two primary mechanisms: 1) direct damage to and killing of cancerous cells; and 2) engaging innate and adaptive antitumor immune responses via sublethal infection of antigen presenting cells in the tumor, which unleashes an inflammatory cascade resulting in sustained systemic antitumor immunity. PVSRIPO has been granted Breakthrough Therapy Designation and Orphan Status by the FDA in recurrent glioblastoma. PVSRIPO has also been granted Orphan Status by the FDA for advanced melanoma.
About Melanoma
There are estimated to be over 12,000 new and recurrent cases of advanced, unresectable melanoma diagnosed in the U.S. each year, and around 7,000 deaths. While immune checkpoint inhibitors have dramatically improved the outlook for advanced melanoma patients today, most patients treated with these immunotherapies are either primary non-responders or eventually develop immune-refractory progressive disease and require additional therapy.
About Istari Oncology
Istari Oncology, Inc., headquartered in Research Triangle Park, North Carolina, is a privately held clinical-stage biotechnology company focused on novel immuno-oncology and immunotherapy platforms for the treatment of glioblastoma and a wide variety of tumors. The company was founded by Darell Bigner, MD, PhD and Matthias Gromeier, MD, of Duke University Medical Center in 2016. Istari licensed a broad range of patents and patent applications from Duke University and has access to additional intellectual property to continue clinical and commercial development of these technologies. The company's primary platform currently in clinical development is PVSRIPO. For more information, please visit: istarioncology.com.
References
1.Howlader N, et al. SEER Cancer Statistics Review, 1975-2017, National Cancer Institute. Bethesda, MD, https://seer.cancer.gov/csr/1975_2017/, based on November 2019 SEER data submission, posted to the SEER web site, April 2020.
Source: Istari Oncology, Inc.
Posted: January 2021