Valneva and Pfizer Announce Collaboration to Co-Develop and Commercialize Lyme Disease Vaccine, VLA15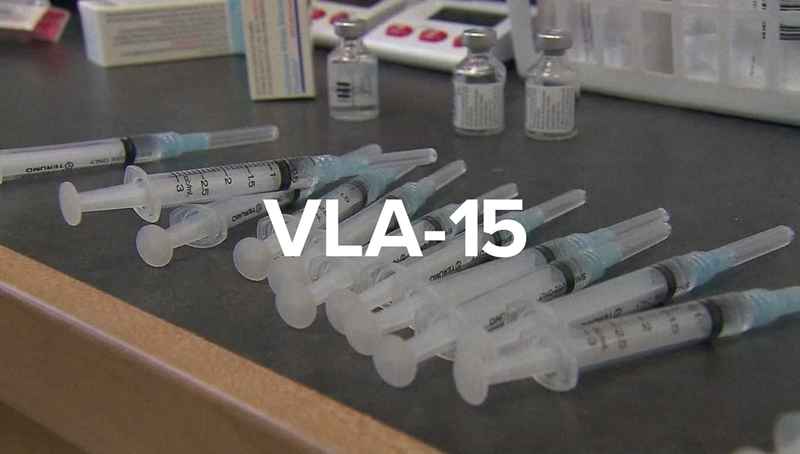 Saint Herblain (France) and New York, NY, April 30, 2020 -- Valneva SE ("Valneva"), a specialty vaccine company, and Pfizer Inc. (NYSE: PFE) today announced a collaboration to develop and commercialize Valneva's Lyme disease vaccine candidate VLA15, which is currently in Phase 2 clinical studies.
VLA15 is the only active Lyme disease vaccine program in clinical development today, and covers six serotypes that are prevalent in North America and Europe. The investigational multivalent protein subunit vaccine, VLA15, targets the outer surface protein A (OspA) of Borrelia, an established mechanism of action for a Lyme disease vaccine. OspA is one of the most dominant surface proteins expressed by the bacteria when present in a tick. VLA15 has demonstrated strong immunogenicity and safety data in pre-clinical and Phase 1 studies. The program was granted Fast Track designation by the U.S. Food and Drug Administration (FDA) in July 2017[1]. Valneva has completed patient enrolment and follow-up for two Phase 2 studies of its Lyme disease vaccine candidate, in more than 800 people. Valneva expects to report the first Phase 2 results in mid-2020.
Valneva and Pfizer will work closely together throughout the development of VLA15. Valneva is eligible to receive a total of $308 million cash payments consisting of a $130 million upfront payment, $35 million in development milestones and $143 million in early commercialization milestones. Under the terms of the agreement, Valneva will fund 30% of all development costs through completion of the development program, and in return Pfizer will pay Valneva tiered royalties starting at 19%. Pfizer will lead late-stage development and have sole control over commercialization.
Thomas Lingelbach, Chief Executive Officer, Valneva, commented "This collaboration is extremely exciting as it provides the opportunity for the rapid development and launch of a vaccine that has the potential to address a major unmet medical need. It validates Valneva's strong vaccine R&D capabilities. We believe that Pfizer is the best partner for our Lyme disease vaccine given their outstanding development and commercial capabilities. Our team is thrilled about the prospect of working with such a successful partner."
"Lyme disease is the most commonly reported tick-borne illness in the United States and is growing in its prevalence and geographic reach. We look forward to working closely with Valneva to continue advancing the VLA15 program and potentially bring a new solution to patients for this significant unmet need," said Nanette Cocero, Global President, Pfizer Vaccines. "As both a research company, and a manufacturer of pediatric and adult vaccines including a vaccine for tick-borne encephalitis in Europe, we believe that Pfizer's vaccine heritage, scientific expertise, and global commercial capabilities will help allow the VLA15 program to reach its maximum potential in helping protect children and adults from Lyme disease."
This transaction is subject to customary closing conditions and clearances under antitrust law, including the Hart-Scott Rodino Antitrust Improvements Act.
Lazard served as exclusive financial advisor to Valneva and Dechert LLP served as Valneva's legal counsel for the collaboration.
About Lyme Disease
Lyme disease is a systemic infection caused by Borrelia bacteria transmitted to humans by infected Ixodes ticks[2]. It is considered the most common vector borne illness in the Northern Hemisphere. According to the U.S. Centers for Disease Control and Prevention (CDC), approximately 300,000 Americans[3] are diagnosed with Lyme disease each year with at least a further 200,000 cases in Europe[4]. Early symptoms of Lyme disease (such as a gradually expanding erythematous rash called Erythema migrans or more unspecific symptoms like fatigue, fever, headache, mild stiff neck, arthralgia or myalgia) are often overlooked or misinterpreted. Left untreated, the disease can disseminate and cause more serious complications affecting the joints (arthritis), the heart (carditis) or the nervous system. The medical need for vaccination against Lyme disease is steadily increasing as the disease footprint widens[5].
ABOUT PFIZER INC.: BREAKTHROUGHS THAT CHANGE PATIENTS' LIVES
At Pfizer, we apply science and our global resources to bring therapies to people that extend and significantly improve their lives. We strive to set the standard for quality, safety and value in the discovery, development and manufacture of health care products, including innovative medicines and vaccines. Every day, Pfizer colleagues work across developed and emerging markets to advance wellness, prevention, treatments and cures that challenge the most feared diseases of our time. Consistent with our responsibility as one of the world's premier innovative biopharmaceutical companies, we collaborate with health care providers, governments and local communities to support and expand access to reliable, affordable health care around the world. For more than 150 years, we have worked to make a difference for all who rely on us. We routinely post information that may be important to investors on our website at www.pfizer.com. In addition, to learn more, please visit us on www.pfizer.com and follow us on Twitter at @Pfizer and @Pfizer_News, LinkedIn, YouTube and like us on Facebook at Facebook.com/Pfizer.
About Valneva SE
Valneva is a specialty vaccine company focused on prevention against diseases with major unmet needs. Valneva's portfolio includes two commercial vaccines for travelers: IXIARO®/JESPECT® indicated for the prevention of Japanese encephalitis and DUKORAL® indicated for the prevention of cholera and, in some countries, prevention of diarrhea caused by ETEC. Valneva has various vaccines in development including unique vaccines against Lyme disease and chikungunya. Valneva has operations in Austria, Sweden, the United Kingdom, France, Canada and the US with over 500 employees. More information is available at www.valneva.com
[1] https://valneva.com/press-release/valneva-receives-fda-fast-track-designation-for-its-lyme-disease-vaccine-candidate-vla15/
[2] Stanek et al. 2012, The Lancet 379:461–473
[3] As estimated by the CDC, https://www.cdc.gov/lyme/stats/humancases.html.
[4] Estimated from available national data. Number largely underestimated based on WHO Europe Lyme Report as case reporting is highly inconsistent in Europe and many LB infections go undiagnosed; ECDC tick-borne-diseases-meeting-report.
[5] New Scientist, Lyme disease is set to explode and we still don't have a vaccine; March 29, 2017 https://www.newscientist.com/article/mg23431195-800-lyme-disease-is-set-to-explode-and-you-cant-protect-yourself/
Source: Pfizer Inc.
Posted: April 2020