Biohaven Completes Enrollment In Pivotal Phase 2/3 Alzheimer's Disease Clinical Trial Of Troriluzole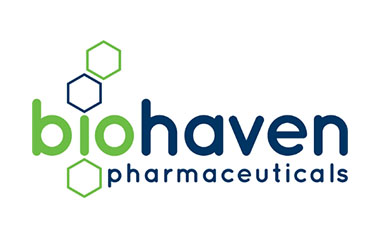 NEW HAVEN, Conn., Nov. 5, 2019 /PRNewswire/ -- Biohaven Pharmaceutical Holding Company Ltd. (NYSE: BHVN) a clinical-stage biopharmaceutical company with a portfolio of innovative, late-stage product candidates targeting neurological and neuropsychiatric diseases, today announced that it has completed enrollment in the T2 Protect AD Study, a Phase 2/3 clinical trial of troriluzole in Alzheimer's disease. An interim futility analysis examining standard cognitive assessments and volumetric magnetic resonance imaging (MRI) is expected before the end of 2019.
"We are hopeful this study will demonstrate that troriluzole can ameliorate the symptoms of Alzheimer's disease, by reducing synaptic glutamate through a novel mechanism of action," said Howard Feldman, MD, FRCP(C), Director of the Alzheimer's Disease Cooperative Study (ADCS) and Professor of Neurosciences at the University of California San Diego School of Medicine, who is Principal Investigator of the T2 Protect AD Study. "Glutamate is one of the only clinically validated therapeutic targets for Alzheimer's disease."
The T2 Protect AD Study (clinicaltrials.gov identifier NCT03605667) is a Phase 2/3, randomized, double-blind, placebo-controlled trial evaluating the efficacy and safety of troriluzole in patients diagnosed with Alzheimer's disease of mild-to-moderate severity (Mini-Mental State Examination scores of 14-24). Patients are randomized on a 1:1 basis to receive 280 mg of troriluzole or placebo once daily for 48 weeks. The trial is being conducted in collaboration with the ADCS at UC San Diego School of Medicine. More information about the trial can be found at the website: http://www.t2protect.org/
Vlad Coric, M.D., CEO of Biohaven commented, "Given the devastating impact of Alzheimer's disease on patients, their families and the healthcare system, we need to urgently assess novel treatment interventions targeting the underlying pathophysiology of this illness. We are grateful to the ADCS and patients participating in our trial to assess the potential efficacy of our glutamate modulator, troriluzole, in this illness."
Alzheimer's disease is a progressive, fatal neurodegenerative dementia that accounts for 60 to 80 percent of dementia cases. Alzheimer's disease currently has no cure. Although there are FDA-approved medications for symptomatic treatment, their clinical benefits are generally limited.
"We are extremely grateful to all the trial participants and their families, as well as our trial sites, for helping us achieve this milestone," commented Irfan Qureshi, MD, Vice President of Neurology at Biohaven. "We believe that troriluzole is a promising potential therapy for people suffering from Alzheimer's disease and look forward to the study results, including the interim analysis by the end of this year." (Article from : www.drugs.com)