FDA Approves Trodelvy (sacituzumab govitecan-hziy) for Previously-Treated Metastatic Triple Negative Breast Cancer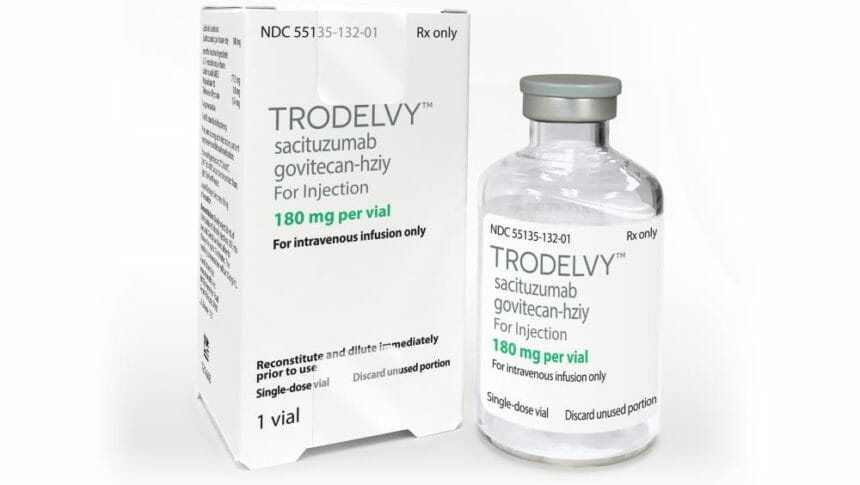 Morris Plains, N.J., April 22, 2020 — Immunomedics, Inc. (NASDAQ: IMMU) ("Immunomedics" or the "Company"), a leading biopharmaceutical company in the area of antibody-drug conjugates (ADC), today announced that the U.S. Food and Drug Administration (FDA) has approved Trodelvy™ (sacituzumab govitecan-hziy) for the treatment of adult patients with metastatic triple-negative breast cancer (TNBC) who have received at least two prior therapies for metastatic disease. Trodelvy is the first ADC approved by the FDA specifically for relapsed or refractory metastatic TNBC and is also the first FDA-approved anti-Trop-2 ADC.1
Trodelvy, which was granted Breakthrough Therapy Designation and Priority Review, was approved under the FDA's Accelerated Approval Program based on the objective response rate (ORR) and duration of response (DoR) observed in a single-arm, multicenter Phase 2 study. Continued approval may be contingent upon verification of clinical benefit in the confirmatory Phase 3 ASCENT study, which was recently halted by the independent Data Safety Monitoring Committee (DSMC) for compelling evidence of efficacy across multiple endpoints.
"The approval of Trodelvy, the first ADC approved specifically for metastatic TNBC, an aggressive cancer with a poor prognosis and few effective therapies, will give clinicians a novel tool for treating patients with this disease," stated Aditya Bardia, MD, MPH, Director of Precision Medicine at the Center for Breast Cancer, Massachusetts General Hospital Cancer Center and Assistant Professor of Medicine at Harvard Medical School. Dr. Bardia was the lead investigator of the Phase 2 study. "In our trial, Trodelvy demonstrated clinically meaningful responses in patients with difficult-to-treat metastatic TNBC and moves the needle towards better outcomes for patients with metastatic breast cancer."
In the single-arm Phase 2 study, Trodelvy demonstrated an ORR of 33.3 percent (95 percent CI: 24.6, 43.1) and a median DoR of 7.7 months (95 percent CI: 4.9, 10.8), as determined by local assessment, in 108 adult TNBC patients who had previously received a median of three prior systemic therapies in the metastatic setting (range: 2-10).1
"We are proud to bring Trodelvy to patients with metastatic TNBC who are in dire need of new options. Trodelvy has the potential to become a standard of care in in the management of TNBC, and we anxiously await the results of ongoing studies in other types of metastatic breast cancer," said Dr. Loretta M. Itri, Chief Medical Officer of Immunomedics. "This approval highlights the potential of our unique ADC platform and strengthens the premise that the Trop-2 antigen found in many solid cancers is an important target for drug delivery. We are committed to broadening the potential use of Trodelvy in other Trop-2-expressing cancers, especially those with unmet need."
Trodelvy carries a black box warning for severe neutropenia and severe diarrhea. The most common adverse reactions occurring in 25 or more percent of patients included nausea, neutropenia, diarrhea, fatigue, anemia, vomiting, alopecia, constipation, decreased appetite, rash and abdominal pain. The most common Grade 3 or 4 adverse events occurring in more than 5 percent of patients were neutropenia, white blood cell count decreased, anemia, hypophosphatemia, diarrhea, fatigue, nausea and vomiting. Two percent of patients discontinued treatment due to adverse events. There were no deaths related to treatment and no severe cases of neuropathy or interstitial lung disease.1
"Trodelvy's approval is a major milestone in our transformation from a research-based organization to a fully-integrated biopharmaceutical company, underscoring our commitment to bring innovative therapies to patients with hard-to-treat cancers," said Dr. Behzad Aghazadeh, Executive Chairman of Immunomedics. "We are grateful to all of the patients, their families, physicians, and nurses who participated in our clinical trials and played a significant role in making this moment possible."
The Company recently announced that the Phase 3 confirmatory ASCENT study of Trodelvy in metastatic TNBC, with over 500 patients enrolled, will be stopped early due to compelling efficacy across multiple endpoints, based on the unanimous recommendation of the DSMC. The Company remains on track to achieve topline results from the ASCENT study by mid-2020.
About Trodelvy
Trodelvy (sacituzumab govitecan-hziy) is the lead product and the most advanced program in Immunomedics' unique antibody-drug conjugate (ADC) platform. Trodelvy is an ADC that is directed against Trop-2, a cell-surface protein expressed in many solid cancers, making it an attractive target for Trodelvy to potentially address multiple types of cancer.2 Trodelvy binds to Trop-2 and delivers the anti-cancer drug, SN-38, to kill cancer cells. Trodelvy is currently being evaluated as a treatment for eight hard-to-treat solid cancers.
About triple-negative breast cancer
Triple-negative breast cancer (TNBC) is an aggressive type of breast cancer, accounting for up to 20 percent of all breast cancers.3 TNBC is diagnosed more frequently in younger and premenopausal women and is highly prevalent in African American and Hispanic women.4 TNBC cells do not have estrogen or progesterone hormone receptors, or very much of the human epidermal growth factor receptor 2 – hence the term triple negative. This means that medicines that target these receptors are not typically effective in TNBC. There is currently no approved standard of care for people with previously-treated mTNBC.3 (Article from : www.drugs.com)