PellePharm Initiates Phase 2 Clinical Trial of Patidegib Topical Gel for People With High Frequency Basal Cell Carcinoma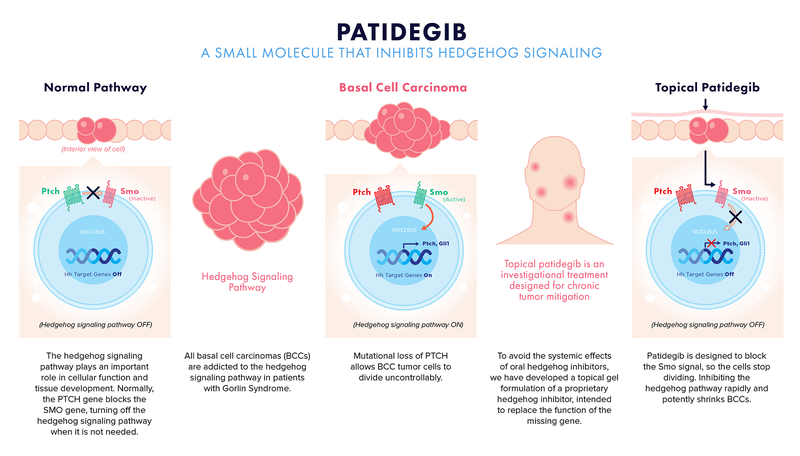 SAN FRANCISCO – January 8, 2020 – PellePharm, Inc., a BridgeBio Pharma, Inc. (Nasdaq: BBIO) company, today announced it has dosed the first two participants in a Phase 2 clinical trial of Patidegib Topical Gel, 2%, vs. vehicle gel for people with non-Gorlin High-Frequency Basal Cell Carcinoma (HF-BCC). HF-BCC is a rare disease that causes a higher than average number of BCCs to develop, specifically in the facial area. PellePharm is a late clinical-stage biopharmaceutical company committed to targeting rare forms of basal cell carcinoma (BCC).
"There are approximately 35,000 people with HF-BCC in the United States. Their quality of life is significantly altered due to the multiple, invasive surgeries they must undergo during their treatment process," said Sanuj K. Ravindran, M.D., president and chief executive officer of PellePharm. "Our goal is to provide people living with HF-BCC better, non-surgical options, and we are pleased to have initiated our multicenter Phase 2 trial to further evaluate Patidegib Topical Gel."
The randomized, double-blinded, stratified, vehicle-controlled Phase 2 trial is evaluating the safety and efficacy of Patidegib Topical Gel 2% applied twice daily to the face over nine months vs. vehicle gel. The primary endpoint of the study is the number of surgically eligible basal cell carcinoma (nSEB) that develop on the face of participants over the nine-month period. The primary endpoint will be assessed by imaging and tracking of BCCs consistently throughout the study in order to identify nSEBs, consistent with the methods employed in the ongoing Phase 3 study of Patidegib topical gel for people living with Gorlin Syndrome. Approximately 40 participants will be enrolled in the Phase 2 trial.
"People with non-Gorlin HF-BCC are phenotypically similar to people with Gorlin Syndrome with respect to their BCCs, but are not born with a germline PTCH1 mutation. Those with HF-BCC are faced with the challenge of frequent BCC surgeries, which can be debilitating, painful and disfiguring, particularly to the face," said Srikanth Pendyala, M.D., vice president of clinical development at PellePharm. "Due to the success we have found with enrolling our Gorlin Syndrome Phase 3 pivotal trial, we are thrilled about this important Phase 2 study milestone, and hope that by initiating this trial, we are closer to being able to mitigate the significant burden of frequent surgeries for those living with HF-BCC."
PellePharm recently completed enrollment for its Phase 3 clinical trial of Patidegib Topical Gel 2% for people living with Gorlin Syndrome. PellePharm entered into a strategic collaboration with LEO Pharma in November 2018, which includes an option for LEO Pharma to acquire PellePharm.
About Patidegib
Patidegib Topical Gel, an investigational treatment, is designed to reduce the BCC tumor burden in people living with Gorlin Syndrome and High Frequency BCC (HF-BCC) by blocking the disease at its source within the hedgehog signaling pathway. Patidegib Topical Gel has shown early promise in a Phase 2 clinical study for the mitigation of BCC tumors in Gorlin Syndrome. The topical formulation of Patidegib was developed with a goal of providing the clinical activity previously demonstrated by oral Patidegib in Phase 1 trials and a favorable tolerability profile without the adverse systemic side effects observed with the oral class of hedgehog inhibitors. The topical gel formulation is stable at room temperature for at least two years, potentially making it an option for ongoing, at-home management of Gorlin Syndrome and HF-BCC. PellePharm has received both Orphan Drug Designation and Breakthrough Therapy Designation for Patidegib Topical Gel in Gorlin Syndrome from the FDA, as well as Orphan Drug Designation in Gorlin Syndrome from EMA's Committee for Orphan Medicinal Products in the EU.
About Gorlin Syndrome
Gorlin Syndrome is a rare, genetic disease characterized by constitutional, heritable mutations in one allele of the tumor suppressor gene encoding PATCHED1 (PTCH1), which acts as the primary inhibitor of the hedgehog signaling pathway. This leads to the formation of multiple basal cell carcinomas (BCCs), often on the face.
With no FDA-approved drugs available for people living with Gorlin Syndrome, the standard of care for treating BCCs is surgery. People with severe Gorlin Syndrome may have as many as 30 surgeries per year, which can be repetitive, scarring and disfiguring. Approximately 10,000 people in the United States, or one in 31,000, are believed to be affected by Gorlin Syndrome. Gorlin Syndrome is known by several names, including Gorlin-Goltz Syndrome, Basal Cell Nevus Syndrome (BCNS) and Nevoid Basal Cell Carcinoma Syndrome (NBCCS).
About High Frequency Basal Cell Carcinoma (HF-BCC)
HF-BCC, like Gorlin Syndrome, is a rare disease which is characterized by the development of an abnormally high number of basal cell carcinomas (BCCs). Unlike people with Gorlin Syndrome, people with HF-BCC are not born with a germline PTCH1 mutation and do not suffer from the other systemic manifestations of Gorlin Syndrome. The current standard of care for people living with HF-BCC is BCC surgery. (Article from : www.drugs.com)