Epizyme Announces FDA Advisory Committee Votes Unanimously in Favor of Tazemetostat for the Treatment of Patients with Epithelioid Sarcoma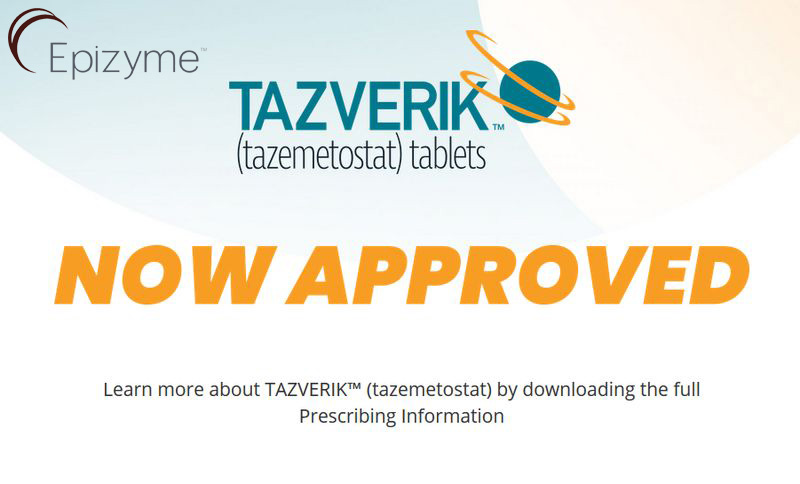 CAMBRIDGE, Mass.--(BUSINESS WIRE)--Dec. 18, 2019 -- Epizyme, Inc. (Nasdaq: EPZM), a late-stage biopharmaceutical company developing novel epigenetic therapies, today announced that the Oncologic Drugs Advisory Committee (ODAC) of the U.S. Food and Drug Administration (FDA) voted 11 - 0 in favor of the benefit-risk profile of tazemetostat as a treatment for patients with metastatic or locally advanced epithelioid sarcoma (ES) not eligible for curative surgery.
"We are incredibly pleased by ODAC's unanimous support of the benefit-risk of tazemetostat in ES, and we appreciate the tremendous support received from sarcoma physicians and their medical teams, advocates, caregivers and most notably, patients with ES," said Dr. Shefali Agarwal, chief medical officer of Epizyme. "We believe the strength of the totality of data, including the observed durable responses and stabilization of disease, safety and tolerability, are distinguishing characteristics of tazemetostat for patients living with this disease. We are thrilled by the panel's support and look forward to working closely with the Agency as they continue their review of our NDA. I am confident that we have submitted a comprehensive clinical data package for ES to support tazemetostat's approval."
ES is a rare and aggressive soft tissue sarcoma characterized by a loss of the INI1 protein. Patients are most commonly diagnosed as young adults, between 20 and 40 years of age, typically with no patients living past five years from diagnosis. ES becomes more aggressive after recurrence or once it has metastasized, with a typical survival of less than one year for patients with metastatic disease.
"Today's ODAC outcome is a significant step toward addressing the critical needs of ES patients," said Robert Bazemore, president and chief executive officer of Epizyme. "This is a remarkable achievement marking the culmination of years of hard work by the entire Epizyme team. If approved, we will have the opportunity to change how patients with this devastating cancer are treated. Our commercial-readiness is complete, and we look forward to finalizing our dialog with the FDA."
The ODAC is an independent panel of experts that evaluates data concerning the efficacy and safety of marketed and investigational cancer treatments and makes recommendations to the FDA. The New Drug Application (NDA) for tazemetostat, an investigational, oral, first-in-class EZH2 inhibitor, is currently under Priority Review by the FDA with a PDUFA target action date of January 23, 2020. Epizyme's NDA submission is based primarily on data from the 62 patient epithelioid sarcoma cohort of its ongoing Phase 2 study of tazemetostat, which were reported at the 2019 ASCO Annual Meeting. (Article from : www.drugs.com)