Oramed Reaches 25% Enrollment in Its Second of Two Concurrent Phase 3 Oral Insulin Trials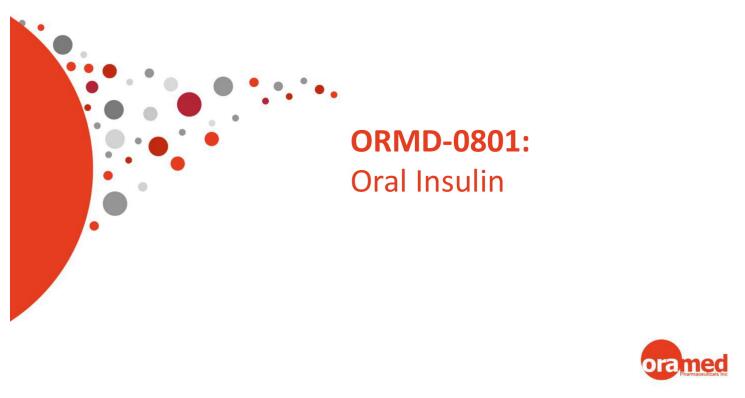 NEW YORK, Aug. 24, 2021 -- Oramed Pharmaceuticals Inc., a clinical-stage pharmaceutical company focused on the development of oral drug delivery platforms, announced today that it has enrolled and randomized over 25% of the planned 450 patients for its Phase 3 ORA-D-013-2 trial of its oral insulin capsule ORMD-0801 for the treatment of type 2 diabetes (T2D).
ORA-D-013-2 is the second of Oramed's two Phase 3 trials being conducted under U.S. Food and Drug Administration (FDA) approved protocols to treat T2D patients who have inadequate glycemic control over a period of 6 to 12 months. The concurrent trial, ORA-D-013-1, completed enrollment and randomization of nearly 65% of its 675 planned patients and is on track to complete randomization with topline results expected in 2022.
"We are pleased with the pace of patient enrollment in the world's first Phase 3 oral insulin trials conducted under a U.S. FDA protocol, and look forward to providing further updates," said Oramed Chief Executive Officer, Nadav Kidron.
About the Study
The ORA-D-013-2 study is recruiting 450 T2D patients with inadequate glycemic control who are managing their condition with either diet alone or with diet and metformin monotherapy. Patients are being recruited through 28 sites in the U.S. and 25 sites in Western Europe and Israel. The double-blind study will randomize patients 1:1 into two cohorts dosed with 8 mg of ORMD-0801 at night and placebo at night. The primary endpoint of the study is to compare the efficacy of ORMD-0801 to placebo in improving glycemic control as assessed by A1c over a 26-week treatment period, with a secondary endpoint of comparing ORMD-0801 to placebo in maintaining glycemic control over a 52-week treatment period.
About Oramed Pharmaceuticals
Oramed Pharmaceuticals (Nasdaq/TASE: ORMP) is a platform technology pioneer in the field of oral delivery solutions for drugs currently delivered via injection. Established in 2006, with offices in the United States and Israel, Oramed has developed a novel Protein Oral Delivery (POD™) technology. Oramed is seeking to transform the treatment of diabetes through its proprietary lead candidate, ORMD-0801, which has the potential to be the first commercial oral insulin capsule for the treatment of diabetes. The Company has completed multiple Phase II clinical trials under an Investigational New Drug application with the U.S. Food and Drug Administration. In addition, Oramed is developing an oral GLP-1 (Glucagon-like peptide-1) analog capsule, ORMD-0901.
Posted: August 2021