FDA Approves Astepro Allergy (azelastine) Nasal Spray for Over-the-Counter Use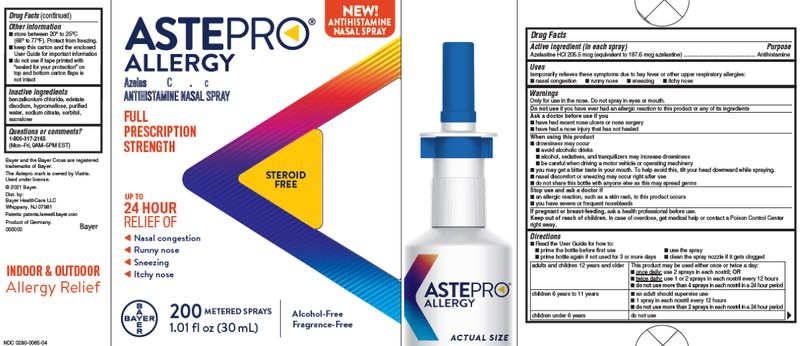 WHIPPANY, N.J.--(BUSINESS WIRE) June 17, 2021 -- Bayer announced today that the U.S. Food and Drug Administration (FDA) has approved Astepro Allergy (Azelastine HCI .15%) as an over-the-counter (OTC) product for the temporary relief of nasal congestion, runny nose, sneezing and itchy nose due to hay fever or other upper respiratory allergies. With the FDA's approval, Astepro Allergy becomes the first and only steroid free, antihistamine nasal spray for allergies available OTC in the United States for adults and children 6 years of age and older.
Astepro® is currently only available with a prescription in the U.S. Today's OTC approval of Astepro® Allergy will provide more than 50 million Americans that suffer from allergies each year over-the-counter access to this steroid free nasal spray optioni. Currently, OTC allergy medications includes three major classes: antihistamines, intranasal steroids and mast cell stabilizers. Astepro® Allergy will be the first and only OTC antihistamine nasal spray for indoor and outdoor allergy relief upon the OTC switch.
"At Bayer, we help make self-care a reality for billions through everyday healthcare. This new differentiated product is one step in that direction, with the potential to help millions of people in the U.S. that suffer from seasonal allergic rhinitis," said Catherine Vennat, VP/GM Bayer Consumer Health U.S. "With Astepro® Allergy, allergy sufferers can get relief of allergy nasal symptoms in an over-the-counter treatment option without steroids or decongestants that will last up to 24-hours. It will bring a crucial differentiated allergy product to the Bayer allergy portfolio to address unmet consumer needs with allergic rhinitis."
This OTC formulation is full prescription strength and includes a number of benefits including flexible once or twice daily dosing that provides up to 24-hour relief of nasal congestion, running nose, sneezing and itchy nose from indoor and outdoor allergies.
Astepro® Allergy will be available at national mass retail locations in Q1 2022.
About Bayer
Bayer is a global enterprise with core competencies in the life science fields of health care and nutrition. Its products and services are designed to help people and planet thrive by supporting efforts to master the major challenges presented by a growing and aging global population. Bayer is committed to drive sustainable development and generate a positive impact with its businesses. At the same time, the Group aims to increase its earning power and create value through innovation and growth. The Bayer brand stands for trust, reliability and quality throughout the world. In fiscal 2020, the Group employed around 100,000 people and had sales of 41.4 billion euros. R&D expenses before special items amounted to 4.9 billion euros. For more information, go to www.bayer.com.
i American College of Allergy, Asthma & Immunology. Fast Fact. 2014. https://acaai.org/news/facts-statistics/allergies
Source: Bayer
Posted: June 2021