FDA Approves Rezipres (ephedrine hydrochloride injection) for Hypotension During Anesthesia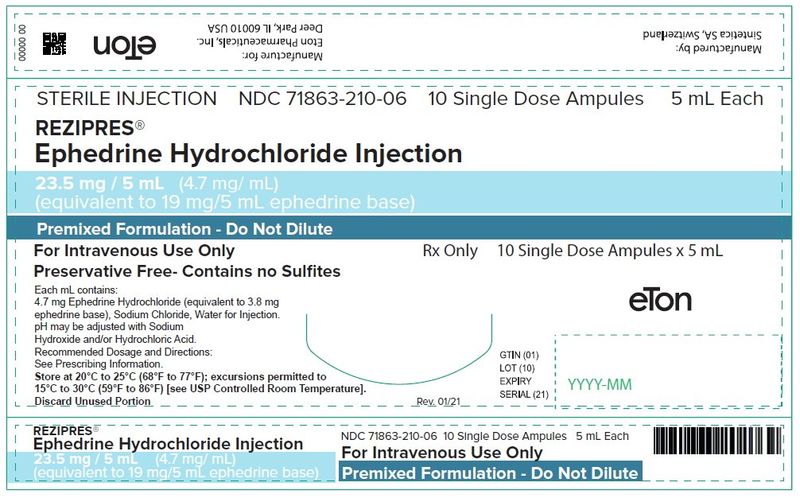 DEER PARK, Ill., June 15, 2021 (GLOBE NEWSWIRE) -- Eton Pharmaceuticals, Inc (Nasdaq: ETON) today announced that the U.S. Food and Drug Administration (FDA) has approved Rezipres (ephedrine hydrochloride injection) for the treatment of clinically important hypotension occurring in the setting of anesthesia.
"We are excited to see the approval of Rezipres, which is now our second FDA-approved ready-to-use hospital injectable product. We believe ready-to-use injectable products provide a compelling benefit to hospitals and reduce the need for hospitals to rely on unapproved compounded products," said Sean Brynjelsen, CEO of Eton Pharmaceuticals. "This innovative sulfite-free formulation has been successfully sold in Europe for years, and we are excited to make it available to U.S. patients shortly."
About Eton Pharmaceuticals
Eton Pharmaceuticals, Inc. is an innovative pharmaceutical company focused on developing and commercializing treatments for rare diseases. The company currently owns or receives royalties from four FDA-approved products, including ALKINDI® SPRINKLE, Biorphen®, Rezipres®, and Alaway® Preservative Free, and has five additional products that have been submitted to the FDA.
Source: Eton Pharmaceuticals, Inc.
Posted: June 2021