Merck Provides Update on Keytruda (pembrolizumab) Indication in Metastatic Small Cell Lung Cancer in the US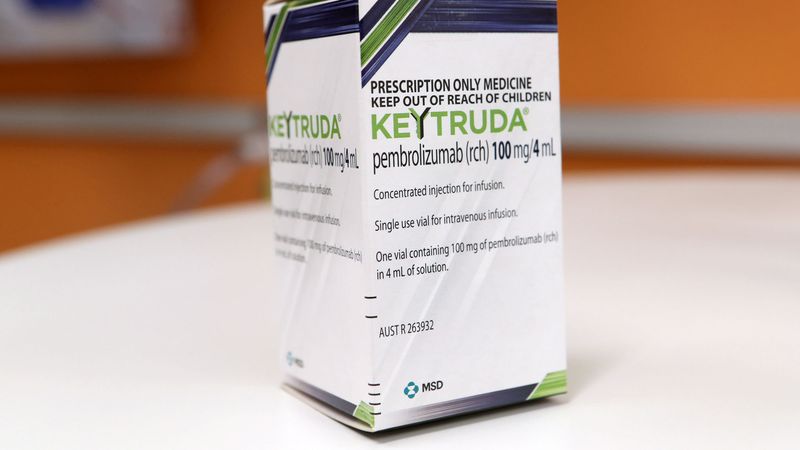 KENILWORTH, N.J.--(BUSINESS WIRE) March 1, 2021 -- Merck (NYSE: MRK), known as MSD outside the United States and Canada, today announced the company is voluntarily withdrawing the U.S. indication for Keytruda (pembrolizumab) for the treatment of patients with metastatic small cell lung cancer (SCLC) with disease progression on or after platinum-based chemotherapy and at least one other prior line of therapy. The withdrawal of this indication was done in consultation with the U.S. Food and Drug Administration (FDA), and Merck is working to complete this process over the coming weeks. This decision does not affect other indications for Keytruda, Merck's anti-PD-1 therapy.
This accelerated approval for Keytruda was granted in June 2019 based on tumor response rate and durability of response data from KEYNOTE-158 (cohort G) and KEYNOTE-028 (cohort C1). Continued approval for this indication was contingent upon completion of the post-marketing requirement establishing superiority of Keytruda as determined by overall survival (OS). As announced in Jan. 2020, KEYNOTE-604, the confirmatory Phase 3 trial for this indication, met one of its dual primary endpoints of progression-free survival but did not reach statistical significance for the other primary endpoint of OS.
Merck's consultation with the FDA on this withdrawal is part of an industry-wide evaluation of indications based on accelerated approvals that have not yet met their post-marketing requirements. Merck is notifying health care professionals about this withdrawal. Patients being treated with Keytruda for their metastatic SCLC should discuss their care with their health care provider.
"The accelerated pathways created by the FDA have been integral to the remarkable progress in oncology care over the past five years and have helped many cancer patients with advanced disease, including small cell lung cancer, access new treatments," said Dr. Roy Baynes, senior vice president and head of global clinical development, chief medical officer, Merck Research Laboratories. "Keytruda remains a foundational treatment for certain patients with metastatic non-small cell lung cancer. We will continue to rigorously evaluate the benefits of Keytruda in small cell lung cancer and other types of cancer, in pursuit of Merck's mission to save and improve lives."
About Keytruda® (pembrolizumab) Injection, 100 mg
Keytruda is an anti-PD-1 therapy that works by increasing the ability of the body's immune system to help detect and fight tumor cells. Keytruda is a humanized monoclonal antibody that blocks the interaction between PD-1 and its ligands, PD-L1 and PD-L2, thereby activating T lymphocytes which may affect both tumor cells and healthy cells.
Merck has the industry's largest immuno-oncology clinical research program. There are currently more than 1,300 trials studying Keytruda across a wide variety of cancers and treatment settings. The Keytruda clinical program seeks to understand the role of Keytruda across cancers and the factors that may predict a patient's likelihood of benefitting from treatment with Keytruda, including exploring several different biomarkers.
Merck's Focus on Cancer
Our goal is to translate breakthrough science into innovative oncology medicines to help people with cancer worldwide. At Merck, the potential to bring new hope to people with cancer drives our purpose and supporting accessibility to our cancer medicines is our commitment. As part of our focus on cancer, Merck is committed to exploring the potential of immuno-oncology with one of the largest development programs in the industry across more than 30 tumor types. We also continue to strengthen our portfolio through strategic acquisitions and are prioritizing the development of several promising oncology candidates with the potential to improve the treatment of advanced cancers. For more information about our oncology clinical trials, visit www.merck.com/clinicaltrials.
About Merck
For 130 years, Merck, known as MSD outside of the United States and Canada, has been inventing for life, bringing forward medicines and vaccines for many of the world's most challenging diseases in pursuit of our mission to save and improve lives. We demonstrate our commitment to patients and population health by increasing access to health care through far-reaching policies, programs and partnerships. Today, Merck continues to be at the forefront of research to prevent and treat diseases that threaten people and animals – including cancer, infectious diseases such as HIV and Ebola, and emerging animal diseases – as we aspire to be the premier research-intensive biopharmaceutical company in the world. For more information, visit www.merck.com and connect with us on Twitter, Facebook, Instagram, YouTube and LinkedIn.
Source: Merck & Co., Inc.
Posted: March 2021