GSK Announces Results Evaluating its Investigational Monoclonal Antibody Otilimab for the Treatment of Hospitalised Adult Patients with COVID-19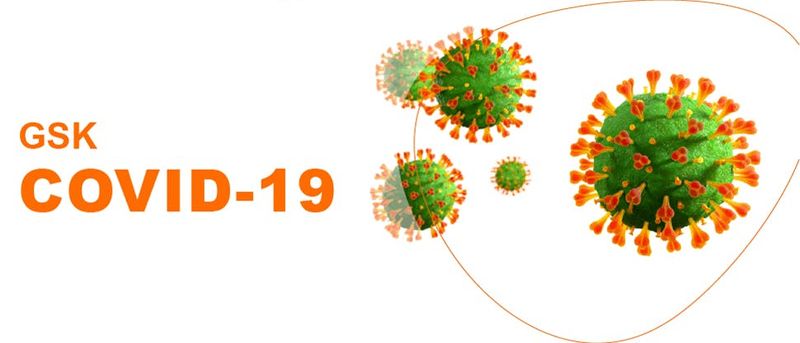 25 February 2021 -- London UK GlaxoSmithKline plc (LSE/NYSE: GSK) today announced results from the phase 2 proof of concept OSCAR (Otilimab in Severe COVID-19 Related Disease) study with otilimab, an investigational anti-granulocyte macrophage colony-stimulating factor (anti-GM-CSF) monoclonal antibody.
The primary endpoint of the OSCAR study was the proportion of COVID-19 patients who were alive and free of respiratory failure 28 days after treatment with a single dose of otilimab in addition to standard of care (including anti-viral treatments and corticosteroids), compared to patients being treated with standard of care alone. Data from patients of all ages showed a treatment difference of 5.3% (95% CI= -0.8%, 11.4%) but this did not reach statistical significance. However, a pre-planned efficacy analysis by age in patients 70 years and older (N=180, 806 in total study) showed that 65.1% of patients were alive and free of respiratory failure 28 days after treatment with otilimab plus standard of care, compared to 45.9% of patients who received the standard of care alone (delta of 19.1%, 95% CI=5.2%, 33.1%) (nominal p-value=0.009). In addition, in a mortality analysis up to day 60, a treatment difference of 14.4% favouring otilimab was seen with rates of 40.4% on standard of care vs. 26% on otilimab plus standard of care (95% CI= 0.9%, 27.9%) (nominal p-value=0.040) in patients 70 years and older.
Given these data suggest a potentially important clinical benefit in a pre-defined sub-group of high-risk patients and the public health need, GSK has decided to amend the OSCAR study to expand this cohort to confirm these potentially significant findings.
Christopher Corsico, Senior Vice President Development, GSK, said: "Patients aged 70 and over account for 70% of COVID-related deaths and nearly 40% of hospitalisations. Our scientific understanding of COVID continues to evolve at a rapid pace with recent studies suggesting that GM-CSF is elevated in this group of patients. Given the profound impact this pandemic is having on the elderly and the encouraging data we are sharing today, we are hopeful this finding will be replicated in the additional cohort."
Approximately 10-15% of patients diagnosed with COVID-19 experience severe disease involving respiratory problems that can require hospitalisation and intensive care, with an additional 5% of patients becoming critically ill. Age is widely recognised as a significant risk factor for severe COVID-19 disease. Greater disease severity and increased mortality are consistently observed in older patients with severe pulmonary COVID-19. According to the United States' Centers for Disease Control and Prevention, the risk of hospitalisation is 5-times greater for patients age 70 to 74, rising to 8-times higher for patients age 75 and older. These patients often need breathing interventions including significant oxygen support or mechanical ventilation. The severe respiratory symptoms of COVID-19 are caused by the body's immune system going into overdrive to eliminate the virus and can lead to life-threatening complications or even death.
Recent research suggests the role of the cytokine GM-CSF in the immune response to COVID-19 may be more prominent in patients over the age of 70[1], putting them at an increased risk for serious complications related to COVID-19. There is an unmet need for additional therapeutics to help mediate the immune response in this patient population.
The additional cohort of the OSCAR study will follow a similar study design and will enrol approximately 350 patients aged 70 years and older.
Currently available therapies have limited clinical benefit in the more severe stages of hospitalised COVID-19 when patients require high-flow oxygen or invasive mechanical ventilation. To date, no targeted immunomodulatory therapy has been proven to have sufficient benefit in improving recovery from respiratory failure or reducing mortality in patients aged 70 years and older.
In the OSCAR study, the most common serious adverse event observed was respiratory failure (5% for placebo, 4% for otilimab). Overall, all adverse events and serious adverse events observed were typical for a severe COVID-19 population. In the 70 years and older sub-group, the incidence rates of SAEs and fatal SAEs were lower in the otilimab group compared with the placebo group.
About the Phase 2 OSCAR study
This global, randomised, double-blind, placebo-controlled, multi-centre, proof-of-concept phase 2a OSCAR study (NCT04376684) assessed the efficacy and safety of a single intravenous infusion of otilimab 90 mg given over an hour or placebo in addition to standard of care in 806 hospitalised adults (ages 18 to 79 years) with severe COVID-19 related pulmonary disease. Standard of care permitted the use of corticosteroids (including dexamethasone), remdesivir, and convalescent plasma according to local hospital/institutional policies. Study participants were enrolled at 130 sites around the world, including in the United States, Europe, Asia, Russia, South Africa and South America. All participants had a positive SARS-CoV-2 test result; been hospitalised due to a diagnosis of pneumonia; had new onset of oxygenation impairment requiring high-flow oxygen, non-invasive ventilation or mechanical ventilation <48 hours before dosing; and had increased biological markers of systemic inflammation.
Participants were considered 'alive and free of respiratory failure' if they were off significant oxygen support measured using a GlaxoSmithKline (GSK) modified version ordinal scale adapted from World Health Organization (WHO) scale 2020.
A full analysis is ongoing and will be made available in an upcoming pre-print publication when available.
About Otilimab
Otilimab (previously GSK3196165) is a fully human monoclonal antibody that inhibits granulocyte-macrophage colony-stimulating factor (GM-CSF), a protein that plays a central role in a broad range of immune-mediated diseases, including rheumatoid arthritis. GM-CSF acts on cells, including macrophages (an immune cell type that plays a key role in the inflammatory process), leading to inflammation, joint damage and pain. Otilimab neutralises the biological function of GM-CSF by blocking the interaction of GM-CSF with its cell surface receptor. In 2013 GSK assumed exclusive worldwide responsibility of otilimab from MorphoSys AG for all development and commercialisation activities in all therapeutic fields.
GSK commitment to tackling COVID-19
GSK's response to COVID-19 has been one of the broadest in the industry, with two potential treatments in addition to our vaccine candidates in development.
GSK is collaborating with several organisations on COVID-19 vaccines by providing access to our adjuvant technology. In addition to work with Sanofi, our collaboration with Medicago on an adjuvanted, protein-based vaccine candidate is now in late-stage clinical trials. An earlier stage collaboration with SK Bioscience is also ongoing, with funding from CEPI and Bill and Melinda Gates Foundation, to develop differentiated, affordable COVID-19 vaccines for supply globally through the COVAX facility. The use of an adjuvant can be of particular importance in a pandemic since it may reduce the amount of vaccine protein required per dose, allowing more vaccine doses to be produced, contributing to protecting more people.
GSK is also working with mRNA specialist, CureVac, to jointly develop next generation, multi-valent mRNA vaccines for COVID-19 with the potential to address multiple emerging variants in one vaccine. GSK will also support manufacturing of up to 100m doses of CureVac's first generation COVID-19 vaccine, if approved.
GSK is also exploring potential therapeutic or treatment options for COVID-19 patients. We are collaborating with Vir Biotechnology to develop existing and identify new anti-viral antibodies that could be used as therapeutic or preventive options for COVID-19.
References
[1] Thwaites et al. Elevated antiviral, myeloid and endothelial inflammatory markers in severe COVID-19. 13 October 2020; medRxiv preprint https://doi.org/10.1101/2020.10.08.20209411
About GSK
GSK is a science-led global healthcare company with a special purpose: to help people do more, feel better, live longer. For further information please visit www.gsk.com/about-us.
Source: GSK
Posted: February 2021