CureVac and Rentschler Biopharma to Ramp Up Production of COVID-19 Vaccine CVnCoV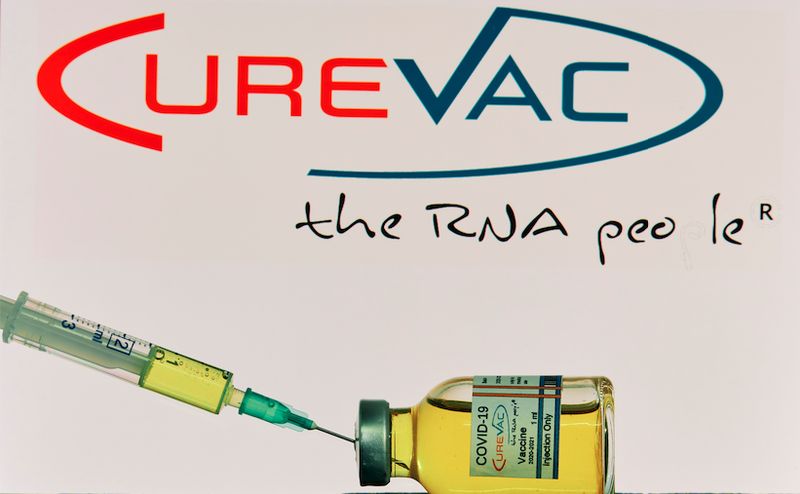 Tübingen / Laupheim, Germany and Boston / Milford, MA, USA, February 1, 2021 -- CureVac NV (Nasdaq: CVAC), a biopharmaceutical company engaged in clinical trials to develop a new class of drugs based on messenger ribonucleic acid (mRNA), and Rentschler Biopharma SE, a leading biopharmaceutical services company, announced today that the companies are expanding to advance the manufacturing capacity of CureVac's COVID-19 vaccine, CVnCoV.
Rentschler Biopharma will support CureVac in the large-volume production of the mRNA for CVnCoV according to cGMP ( current Good Manufacturing Practice ) standards. CureVac has started the Phase 2b / 3 clinical trial of its mRNA-based vaccine candidate against SARS-CoV-2 and is therefore preparing to start production on a commercial scale to meet global demand. In addition to the production of the active pharmaceutical ingredient (API) and its purification, Rentschler Biopharma will also take on the pharmaceutical formulation.
The companies concluded a contractual agreement on this collaboration in November 2020 and started setting up the corresponding production lines at Rentschler Biopharma's location in Laupheim. The manufacturing processes are currently being tested and optimized in order to achieve maximum mRNA yield. It is expected that more than 100 million doses of the CureVac vaccine can be manufactured in Laupheim per year.
Dr. Florian von der Mülbe, Chief Production Officer at CureVac, said: "Rentschler Biopharma is known in our industry for high quality service. Therefore, we look forward to working together on key production steps in the manufacture of CVnCoV. CureVac has started to build an integrated European network for vaccine production with several service partners. With this strategy, our company expects to significantly increase the production capacity for CVnCoV to possibly several hundred million cans per year while at the same time being able to control potential risks in the supply chain. "
Dr. Frank Mathias, CEO of Rentschler Biopharma, said: "Rentschler Biopharma has extensive experience with highly complex therapeutic molecules and our employees apply all of their knowledge to meet the high expectations of CureVac in the manufacture of their mRNA vaccine against COVID-19 . With the construction of the production suite, we prepare the start of market production. We are currently hiring up to 80 highly qualified new employees, including laboratory assistants and bioprocess engineers, to work on this important project and also to help us meet the increasing need for life-saving biopharmaceuticals in the long term. "
Federico Pollano, Senior Vice President Global Business Development at Rentschler Biopharma, added: "The collaboration between the people involved at CureVac and Rentschler Biopharma has been excellent from the start. Our common goal is to provide safe and effective vaccines against COVID-19 for the great global need. We are working tirelessly to optimize the production chain so that we can obtain the necessary regulatory approvals and start manufacturing on a commercial scale as quickly as possible. "
About CVnCoV
CureVac began development of its mRNA-based vaccine candidate against COVID-19 in January 2020. The active ingredient is based on optimized, chemically unmodified mRNA that codes for the prefusion-stabilized full spike protein of the SARS-CoV-2 virus. The phase 1 and 2a clinical trials for CVnCoV started in June and September 2020, respectively. Interim data for the phase 1 clinical trial published in November 2020 showed that CVnCoV was generally well tolerated at all dose strengths tested and in addition to the first signs of T cells -Activation triggered strong antibody responses. The quality of the immune response was comparable to that of convalescent COVID-19 patients, and thus similar to that after a natural infection with COVID-19. The data supported CureVac's dose selection of 12 µg for the pivotal phase 2b / 3 study. The material for the clinical studies is provided thanks to the company's extensive production capacities for mRNA vaccines at its headquarters in Tübingen. In order to enable large-scale production of CVnCoV for potential commercial delivery, manufacturing capacities are currently being expanded across Europe.
About CureVac
CureVac is a global biopharmaceutical company in the field of mRNA technology (messenger RNA) with more than 20 years of experience in the development and optimization of this versatile biological molecule for medical purposes. The principle of CureVac's proprietary technology is based on the use of chemically unmodified mRNA as a data carrier to guide the human body to produce the correspondingly coded proteins with which a variety of diseases can be combated. Based on its proprietary technology, the company has built an extensive clinical pipeline in the areas of prophylactic vaccines, cancer therapies, antibody therapies and the treatment of rare diseases. CureVac has been listed on the New York Nasdaq since August 2020. The company is headquartered in Tübingen, Germany, and employs more than 500 people in Tübingen, Frankfurt and Boston, USA. For more information, seewww.curevac.com .
About Rentschler Biopharma
Rentschler Biopharma SE is a leading contract development and production company (CDMO) and focuses exclusively on customer projects. With its headquarters in Laupheim, Germany, and its location in Milford, MA, USA, Rentschler Biopharma offers process development and production of biopharmaceuticals as well as related consulting services including project planning and regulatory support. Many years of experience and excellent problem-solving skills ensure the high quality standard for Rentschler Biopharma's customers. A professional quality management system, a proven philosophy of operational excellence and advanced technologies ensure product quality and productivity in every development and production step. In order to be able to offer best-in-class formulations along the biopharmaceutical value chain, the company has entered into a strategic alliance with Leukocare AG. Rentschler Biopharma is an independent family company and employs around 1,000 people.
Source: CureVac
Posted: February 2021