GSK Announces New Data Presentations from the DREAMM Programme Exploring Investigational Belantamab Mafodotin in Patients with Relapsed/Refractory Multiple Myeloma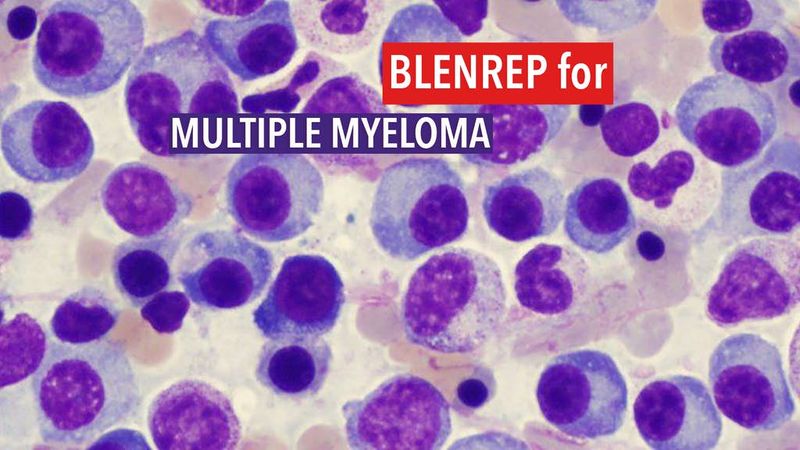 04 June 2020 -- GlaxoSmithKline (GSK) plc today announced new data from its DREAMM (DRiving Excellence in Approaches to Multiple Myeloma) clinical trial programme of belantamab mafodotin in relapsed/refractory multiple myeloma will be presented at the upcoming virtual edition of the 25th European Hematology Association (EHA) Annual Congress from 11-21 June 2020.
Sixteen presentations in total will be shared at the meeting, including new analyses from the pivotal DREAMM-2 study evaluating belantamab mafodotin in heavily pre-treated patients with relapsed/refractory multiple myeloma. Key presentations include:
DREAMM-1 and DREAMM-2 Pooled Data: Safety and Tolerability of Single-agent Belantamab Mafodotin in Heavily Pre-Treated Patients With Relapsed/Refractory Multiple Myeloma (ePoster #EP948; Trudel S)

DREAMM-2: Assessing Efficacy Via Indirect Comparison of Single-agent Belantamab Mafodotin Versus Selinexor Plus Dexamethasone Combination in Anti-CD38 Exposed Relapsed/Refractory Multiple Myeloma (ePoster #EP1016; Popat R)

DREAMM-4: Evaluating Safety and Clinical Activity of Belantamab Mafodotin in Combination With Pembrolizumab in Patients With Relapsed/Refractory Multiple Myeloma (RRMM) (ePoster #EP955; Trudel S)
Dr Axel Hoos, Senior Vice President and Head of Oncology R&D, GSK said: "In today's challenging environment we are committed to helping address the COVID-19 pandemic, while also progressing our scientific research to deliver innovative treatments for patients with cancer. We are proud to present data at EHA from our extensive DREAMM clinical trial programme as we continue to advance belantamab mafodotin in various relapsed/refractory multiple myeloma treatment settings."
Belantamab mafodotin is an investigational humanised, anti-BCMA (antibody-drug conjugate against B-cell maturation antigen).[1] BCMA is a cell-surface protein that plays an important role in the survival of plasma cells and is universally expressed in patients with multiple myeloma.[2] A Biologics License Application (BLA) and Marketing Authorisation Application (MAA), are currently under review by the US Food and Drug Administration and European Medicines Agency, respectively. Data from the DREAMM-2 study of single-agent belantamab mafodotin in patients with RRMM who had received a median of seven prior lines of treatment and whose disease was progressing despite treatment with an immunomodulatory drug, a proteasome inhibitor, and an anti-CD38 antibody, serve as the basis for the BLA and MAA.
About multiple myeloma
Multiple myeloma is the third most common blood cancer and is generally considered treatable, but not curable.[3] Research into new therapies is needed as multiple myeloma commonly becomes refractory to available treatments.[4]
About B-cell maturation antigen (BCMA)
The normal function of BCMA is to promote plasma cell survival by transduction of signals from two known ligands, BAFF (B-cell activating factor) and APRIL (a proliferation-inducing ligand). This pathway has been shown to be important for myeloma cell growth and survival. BCMA expression is limited to B-cells at later stages of development. BCMA is expressed at varying levels in myeloma patients and BCMA membrane expression is universally detected in myeloma cell lines.[2]
About belantamab mafodotin (GSK2857916)
Belantamab mafodotin is an investigational antibody-drug conjugate comprising a humanised anti-B-cell maturation antigen (BCMA) monoclonal antibody conjugated to the cytotoxic agent auristatin F via non-cleavable linker. The drug linker technology is licensed from Seattle Genetics; monoclonal antibody is produced using POTELLIGENT Technology licensed from BioWa.
Belantamab mafodotin is not currently approved for use anywhere in the world.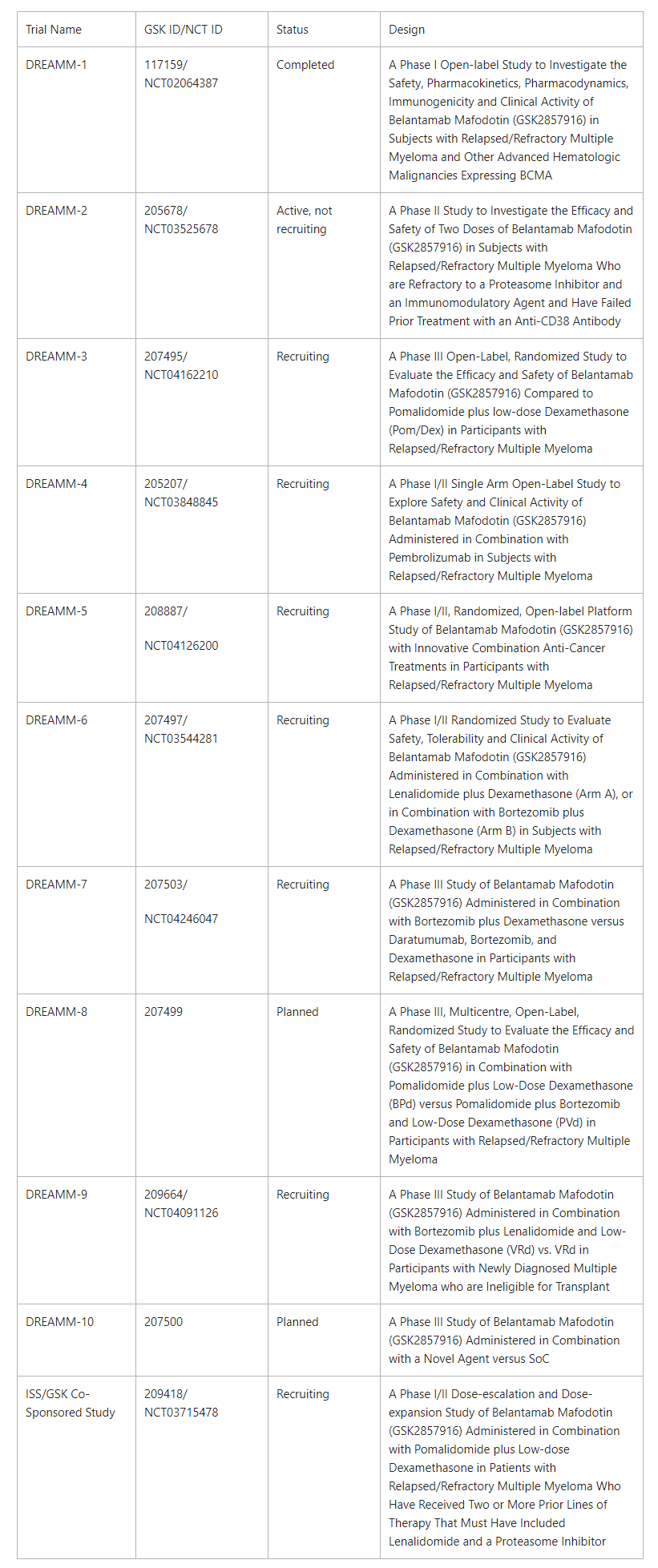 About GSK
GSK is a science-led global healthcare company with a special purpose: to help people do more, feel better, live longer. For further information please visit www.gsk.com/about-us.
References
[1] NCI Drug Dictionary - Anti-BCMA Antibody-Drug Conjugate GSK2857916. National Cancer Institute. https://www.cancer.gov/publications/dictionaries/cancer-drug/def/anti-bcma-antibody-drug-conjugate-gsk2857916. Accessed May 2020.
[2] Trudel S, Lendvai N, Popat R, et al. Targeting B-cell maturation antigen with GSK2857916 antibody–drug conjugate in relapsed or refractory multiple myeloma (BMA117159): a dose escalation and expansion phase 1 trial. The Lancet Oncology. 2018;19(12):1641-1653. doi:10.1016/s1470-2045(18)30576-x.
[3] Estimated number of incident cases worldwide, both sexes, all ages. World Health Organization. https://gco.iarc.fr/ Published 2020. Accessed May 2020.
[4] Nooka A, Kastritis E, Dimopoulos M, Lonial S. Treatment options for relapsed and refractory multiple myeloma. Blood. 2015;125(20):3085-3099. doi:10.1182/blood-2014-11-568923.
Source: GSK
Posted: June 2020