First Patient Dosed in Avdoralimab Phase II Clinical Trial in COVID-19 Patients With Severe Pneumonia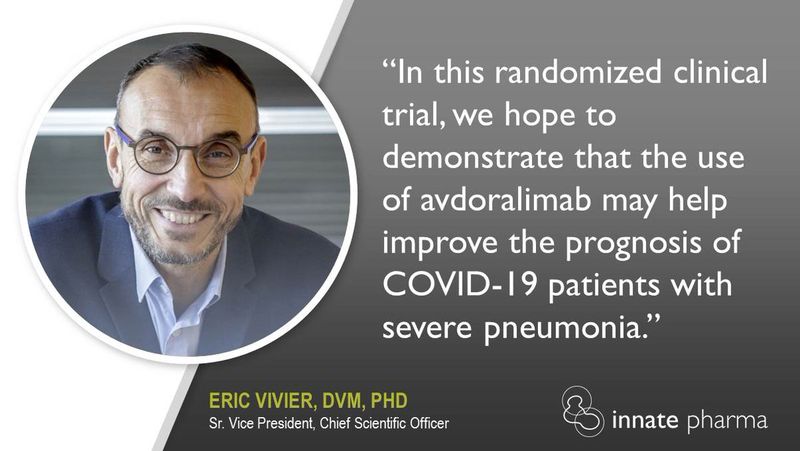 MARSEILLE, France, April 28, 2020 (GLOBE NEWSWIRE) -- Innate Pharma SA (Euronext Paris: IPH – ISIN: FR0010331421; Nasdaq: IPHA) ("Innate" or the "Company") today announced that the first patient was dosed in a randomized, double-blind Phase II clinical trial, evaluating the safety and efficacy of its anti-C5aR antibody, avdoralimab (IPH5401), in COVID-19 patients with severe pneumonia.
The primary objective of this investigator-sponsored trial, named FORCEa, is to improve the proportion of COVID-19 patients with severe pneumonia who no longer need to be hospitalized, and to reduce the need for and duration of mechanical ventilation in patients with COVID-19 pneumonia complicated by acute respiratory distress syndrome (ARDS).
The Phase II trial is supported by an exploratory translational study, EXPLORE COVID-19, which suggests that patients who progress towards severe COVID-19 disease exhibit an activation of the C5a/C5aR pathway.
"Through the translational data analysis in COVID-19 patients, we observed high levels of circulating C5a and over-activation of the C5a-dependent myeloid cell pathway, which is believed to contribute to inflammation in the lungs. Avdoralimab is a monoclonal antibody that blocks C5aR and has the potential to reduce the inflammatory response in the lungs," said Pr. Eric Vivier, PhD, Chief Scientific Officer at Innate Pharma and Professor at AP-HM (Marseille Public University Hospitals), Aix-Marseille University and Centre d'Immunologie de Marseille-Luminy. "In this randomized trial, we hope to demonstrate that the use of avdoralimab helps improve the prognosis of COVID-19 patients with severe pneumonia."
"The intensive care units are currently overburdened in France, along with every country affected by the pandemic. Hospitalization in intensive care units is often long, from 14 to 21 days, and physicians have no effective treatments for patients. The objective of this study is to investigate whether avdoralimab can reduce the duration of hospitalization, and the duration and need for mechanical ventilation in an important proportion of COVID-19 patients," explains Pr. Nicolas Schleinitz, MD, Internal Medicine Service, Timone Hospital, Professor at AP-HM, Aix-Marseille University and Principal Investigator for the FORCE study.
About the clinical trial
FORCE is a multi-center, randomized, double-blind, placebo-controlled Phase II trial evaluating avdoralimab in COVID-19 patients with severe pneumonia. The trial will be conducted in La Timone Hospital and Nord Hospital in Marseille (Hopitaux Universitaires de Marseille – AP-HM) and in the Hospital Laveran (HIA-Laveran).
The trial is expected to enroll a total of 108 patients (age 18-80) between two cohorts: one cohort of COVID-19 patients with severe pneumonia without acute respiratory distress syndrome (ARDS) at baseline and one cohort of COVID-19 patients with severe pneumonia complicated by ARDS and admitted in ICU at baseline. In each cohort, patients will receive avdoralimab or placebo.
Avdoralimab (IPH5401) in cancer:
Avdoralimab is a therapeutic antibody that specifically binds and blocks C5a receptors (C5aR) expressed on myeloid cells, including monocytes, macrophages and neutrophils. It is currently in Phase I development in solid tumors, including hepatocellular carcinoma and non-small cell lung cancer.
Avdoralimab in COVID-19
C5a has been implicated in the pathogenesis of ARDS by promoting a proinflammatory environment, through the attraction of neutrophils and stimulation of immune cells such as T and B cells to release cytokines. Avdoralimab blocks C5aR and has the potential to reduce the inflammatory response in the lungs.
About Innate Pharma
Innate Pharma S.A. is a commercial stage oncology-focused biotech company dedicated to improving treatment and clinical outcomes for patients through therapeutic antibodies that harness the immune system to fight cancer.
Innate Pharma's commercial-stage product, Lumoxiti, in-licensed from AstraZeneca in the US, EU and Switzerland, was approved by the FDA in September 2018. Lumoxiti is a first-in class specialty oncology product for hairy cell leukemia. Innate Pharma's broad pipeline of antibodies includes several potentially first-in-class clinical and preclinical candidates in cancers with high unmet medical need.
Innate has been a pioneer in the understanding of natural killer cell biology and has expanded its expertise in the tumor microenvironment and tumor-antigens, as well as antibody engineering. This innovative approach has resulted in a diversified proprietary portfolio and major alliances with leaders in the biopharmaceutical industry including Bristol-Myers Squibb, Novo Nordisk A/S, Sanofi, and a multi-products collaboration with AstraZeneca.
Source: Innate Pharma SA