American BriVision Initiates Phase II Part I Clinical Trial for ABV-1505 in Adult Attention-Deficit Hyperactivity Disorder (ADHD)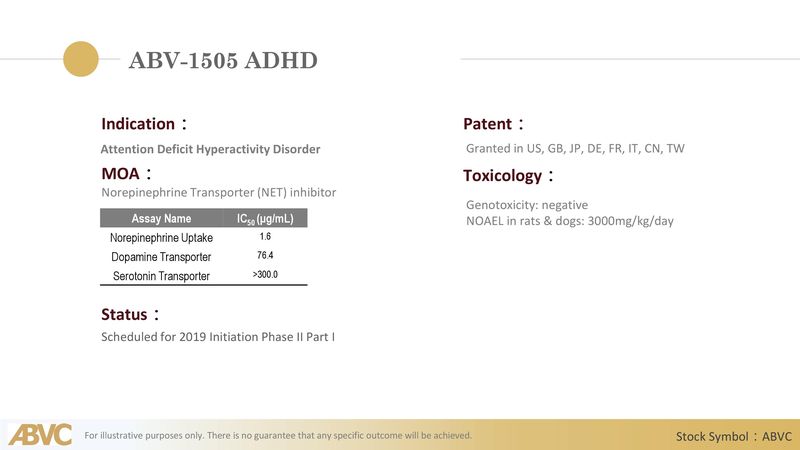 FREMONT, CA, Dec. 05, 2019 (GLOBE NEWSWIRE) -- via NEWMEDIAWIRE -- American BriVision (Holding) Corporation (OTCQB: ABVC) (the "Company"), a clinical stage biopharmaceutical company developing therapeutic solutions in oncology/hematology, CNS, and ophthalmology, today announced the initiation of a new ABV-1505 Phase II Part I clinical trial, under the U.S. Food and Drug Administration (FDA) clinical protocol code BLI-1008-001, for adult attention-deficit hyperactivity disorder (ADHD). The new study will be conducted at the University of California San Francisco (UCSF) Medical Center.
This trial is an open label, single-center, dose escalation study to be conducted in six adult ADHD patients. Each patient will receive a low-dose treatment (380 mg) of ABV-1505 thrice daily for 28 days followed by a high-dose treatment (760 mg) thrice daily for another 28 days. PDC-1421, the active pharmaceutical ingredient of ABV-1505 and ABV-1504, has been successfully evaluated in a recently completed Phase II study for major depressive disorder (MDD) conducted at Stanford University and five major medical centers in Taiwan.
The primary objective of this study is to determine the effective doses and treatment period of PDC-1421 in adult patients with ADHD. The secondary objective is to evaluate the safety of PDC-1421 in patents receiving the drug at various dose levels. A Phase II Part II study is expected to follow at the UCSF Medical Center, along with major medical centers in Taiwan, after and assuming successful completion of this Phase II Part I study.
"Following the Phase II clinical study of ABV-1504 for the treatment of MDD patients taken from trials completed at Stanford University and five major medical centers in Taiwan, we are initiating this new clinical study with ABV-1505 for the treatment of adult ADHD patients at UCSF Medical Center in order to expand PDC-1421's therapeutic indication," said Dr. Howard Doong, Chief Executive Officer of the Company. "We are excited to see if the same mechanism of action that has benefited MDD patients in our trials thus far has therapeutic benefits in adult ADHD patients as well."
According to Grand View Research, the global ADHD market size was valued at $16.4 billion in 2018 and is estimated to exhibit a CAGR of 6.4% through 2025, driven by worldwide drug product approvals and launches and increased research and development activities. (Article from : www.drugs.com)