Ra Pharmaceuticals Announces Dosing of First Patient in Phase 2 Clinical Trial of Zilucoplan for IMNM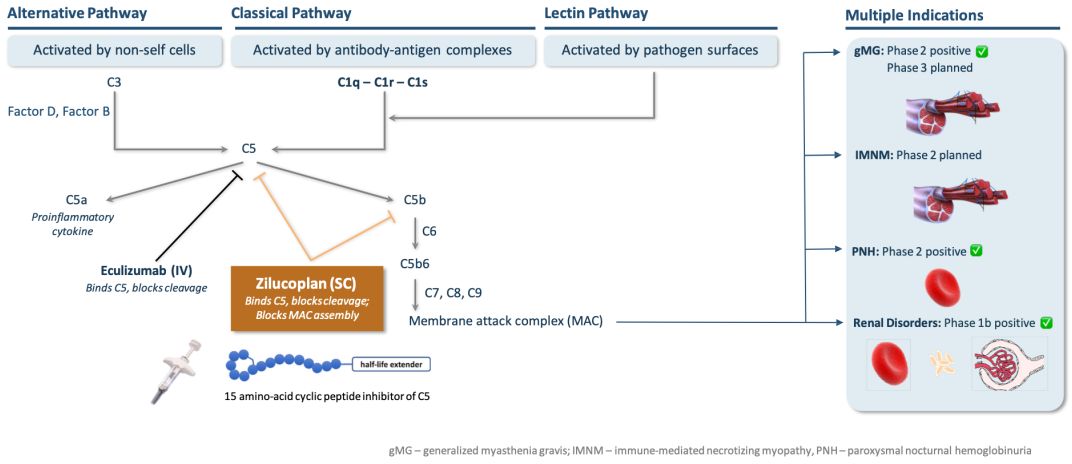 CAMBRIDGE, Mass.--(BUSINESS WIRE) December 04, 2019 -- Ra Pharmaceuticals, Inc. (Nasdaq:RARX) today announced the initiation of dosing in its Phase 2 clinical trial of zilucoplan for the treatment of immune-mediated necrotizing myopathy (IMNM).
"IMNM is a chronic, severe, and debilitating autoimmune disease, and current treatment options are limited and non-specific," said Andrew Mammen, M.D., Ph.D., Muscle Disease Unit Leader, Laboratory of Muscle Stem Cells and Gene Regulation, and Principal Investigator for the Phase 2 study at the National Institute of Arthritis and Musculoskeletal and Skin Diseases, National Institutes of Health, Bethesda, MD. "With terminal complement activation playing a central role in the disease pathophysiology of IMNM, zilucoplan, if successfully developed and approved, has the potential to become the first targeted therapy for patients with IMNM."
The randomized, double-blind, placebo-controlled, multi-center, Phase 2 clinical trial will evaluate the safety, tolerability, and efficacy of zilucoplan in patients with IMNM who are positive for anti-3-hydroxy-3-methylglutaryl-coenzyme A reductase (HMGCR) or anti-signal recognition particle (SRP) autoantibodies. Patients will be randomized in a 1:1 ratio to receive daily subcutaneous (SC) doses of 0.3 mg/kg zilucoplan or placebo. Randomization will be stratified based on antibody status (anti-HMGCR+ versus anti-SRP+). The trial is expected to enroll approximately 24 patients with an eight-week treatment period. The primary endpoint will be change in creatine kinase (CK) from baseline to week eight. Following completion of the trial, patients will have the option to enter into an open-label long-term extension study with zilucoplan.
"We are pleased to have dosed the first patient in our Phase 2 IMNM trial, which aims to leverage the unique properties of a small peptide in tissue-based complement-mediated disorders and build on the success of our Phase 2 clinical trial for zilucoplan in gMG," said Doug Treco, Ph.D., President and Chief Executive Officer of Ra Pharma. "With both the Phase 2 clinical trial in IMNM and the Phase 3 clinical trial in gMG now underway, we've taken important steps in our efforts to bring innovative and accessible therapies to patients with rare, complement-mediated diseases."
About IMNM
IMNM is an autoimmune myopathy characterized by skeletal muscle necrosis, severe proximal limb weakness, and elevated creatine kinase (CK) levels. IMNM is categorized into two subtypes defined by the presence of distinct autoantibodies against 3-hydroxy-3-methylglutaryl-coenzyme A reductase (HMGCR) or signal recognition particle (SRP). In IMNM, these autoantibodies drive complement-mediated necrosis of muscle fibers, resulting in severe, progressive, and debilitating proximal muscle weakness. IMNM affects more than 15,000 patients in the United States, European Union, and Japan. There are currently no approved therapies for the treatment of IMNM.
About Zilucoplan
Ra Pharma is developing zilucoplan and zilucoplan extended release (XR) for generalized myasthenia gravis (gMG), immune-mediated necrotizing myopathy (IMNM), amyotrophic lateral sclerosis (ALS), and other tissue-based complement-mediated disorders with high unmet medical need. The product candidate is designed for convenient subcutaneous (SC) self-administration. Zilucoplan is an investigational, synthetic, macrocyclic peptide discovered using Ra Pharma's powerful proprietary drug discovery technology. The peptide is designed to bind complement component 5 (C5) with sub-nanomolar affinity and allosterically inhibit its cleavage into C5a and C5b upon activation of the classical, alternative, or lectin pathways. The U.S. Food and Drug Administration (FDA) has granted Orphan Drug Designation to zilucoplan for the treatment of MG. (Article from : www.drugs.com)