FDA Approves Alymsys (bevacizumab-maly), a Biosimilar to Avastin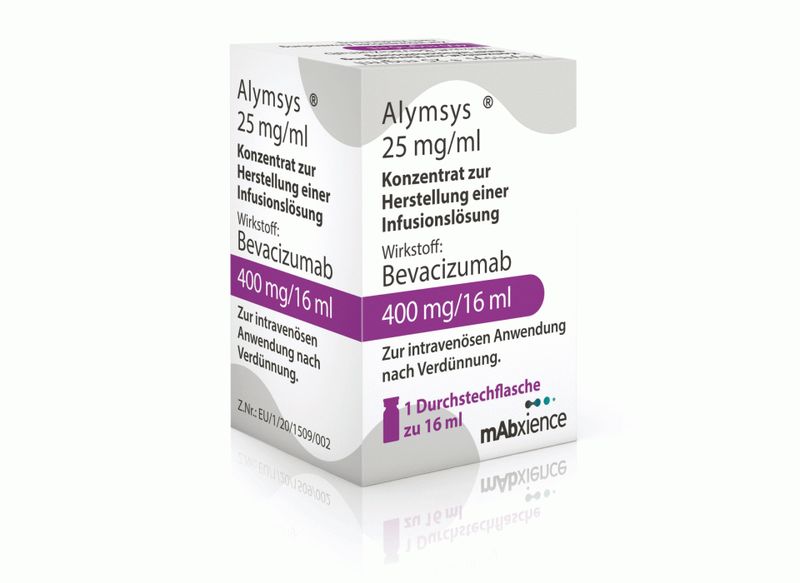 BRIDGEWATER, N.J.--(BUSINESS WIRE) April 13, 2022 -- Amneal Pharmaceuticals, Inc. (NYSE: AMRX) ("Amneal" or the "Company") today announced that the U.S. Food and Drug Administration (FDA) has approved the Company's Biologics License Application (BLA) for bevacizumab-maly, a biosimilar referencing Avastin®. The product will be marketed under the proprietary name Alymsys® and represents the third bevacizumab biosimilar approved in the U.S.
Alymsys® was developed by mAbxience, a global biotech company with over a decade of experience in the development, manufacture, and commercialization of biopharmaceuticals. Bevacizumab-maly is a vascular endothelial growth factor inhibitor used in oncology. This marks the second of three biosimilars approvals Amneal expects to receive this year in oncology, the second-largest biosimilar category in the U.S. Earlier this year, Amneal received approval of RELEUKO® (filgrastim-ayow), a filgrastim biosimilar referencing Neupogen®, and the Company's pegfilgrastim biosimilar referencing Neulasta® is currently under review by the FDA.
"With the U.S. approval of our second biosimilar, Alymsys®, we are continuing our momentum and establishing our presence in the $28 billion U.S. biosimilars market. By combining partner assets with our own key capabilities, we are on a clear path to becoming a meaningful player in this high growth category. Biosimilars represent the next wave of affordable medicines in the U.S. and are closely aligned with our strategy to provide high quality, affordable medicines to as many patients as possible," said Chirag and Chintu Patel, Co-Chief Executive Officers.
"Through our strategic partnership with a market leader like Amneal, we are excited to see this important product enter the U.S. biosimilar market. For us, this is a great example of our globalization strategy materializing and how innovation and cutting-edge R&D technology can be applied to create high quality, affordable medicines that improve access to critical treatments," said Emmanuelle Lepine, Chief Executive Officer of mAbxience.
According to IQVIA®, U.S. annual sales for bevacizumab for the 12 months ended February 2022 were $2.6 billion, $1.6 billion of which represented biosimilar sales.
Alymsys® (bevacizumab-maly) in the U.S. is a vascular endothelial growth factor inhibitor indicated for the treatment of:
Metastatic colorectal cancer, in combination with intravenous fluorouracil-based chemotherapy for first or second-line treatment.

Metastatic colorectal cancer, in combination with fluoropyrimidine-irinotecan- or fluoropyrimidine-oxaliplatin-based chemotherapy for second-line treatment in patients who have progressed on a first-line bevacizumab product-containing regimen.

First-Line non-squamous non-small cell lung cancer, in combination with carboplatin and paclitaxel.

Recurrent glioblastoma in adults.

Metastatic renal cell carcinoma in combination with interferon alfa.

Persistent, recurrent, or metastatic cervical cancer, in combination with paclitaxel and cisplatin or paclitaxel and topotecan.

Epithelial ovarian, fallopian tube, or primary peritoneal cancer, in combination with paclitaxel
Limitations of Use: Alymsys® is not indicated for adjuvant treatment of colon cancer.
Alymsys® IMPORTANT SAFETY INFORMATION includes warnings and precautions on severe and fatal hemorrhage; arterial and venous thromboembolic events; hypertension, hypertensive crisis, and hypertensive encephalopathy; renal injury, proteinuria, and nephrotic syndrome; posterior reversible encephalopathy syndrome; embryo-fetal toxicity; ovarian failure; congestive heart failure; gastrointestinal perforations and fistula; surgery and wound healing complications, and infusion-related reactions.
ADVERSE REACTIONS
Reported adverse drug reactions in patients include epistaxis, hemorrhage, hypertension, exfoliative dermatitis, proteinuria, back pain, headache, rhinitis, taste alteration, dry skin, and lacrimation disorder.
About Amneal
Amneal Pharmaceuticals, Inc. (NYSE: AMRX), headquartered in Bridgewater, NJ, is a fully integrated essential medicines company. We make healthy possible through the development, manufacturing, and distribution of generic and specialty pharmaceuticals, primarily within the United States. The Company has a diverse portfolio of approximately 250 products in its Generics segment and is expanding across a broad range of complex products and therapeutic areas, including injectables and biosimilars. In its Specialty segment, Amneal has a growing portfolio of branded pharmaceutical products focused primarily on central nervous system and endocrine disorders, with a pipeline focused on unmet needs. Through its AvKARE segment, the Company is a distributor of pharmaceuticals and other products for the U.S. federal government, retail, and institutional markets. For more, please visit www.amneal.com.
Source: Amneal Pharmaceuticals, Inc.
Posted: April 2022