RedHill Biopharma Announces Planned Expansion of Opaganib Global Phase 2/3 COVID-19 Study to the U.S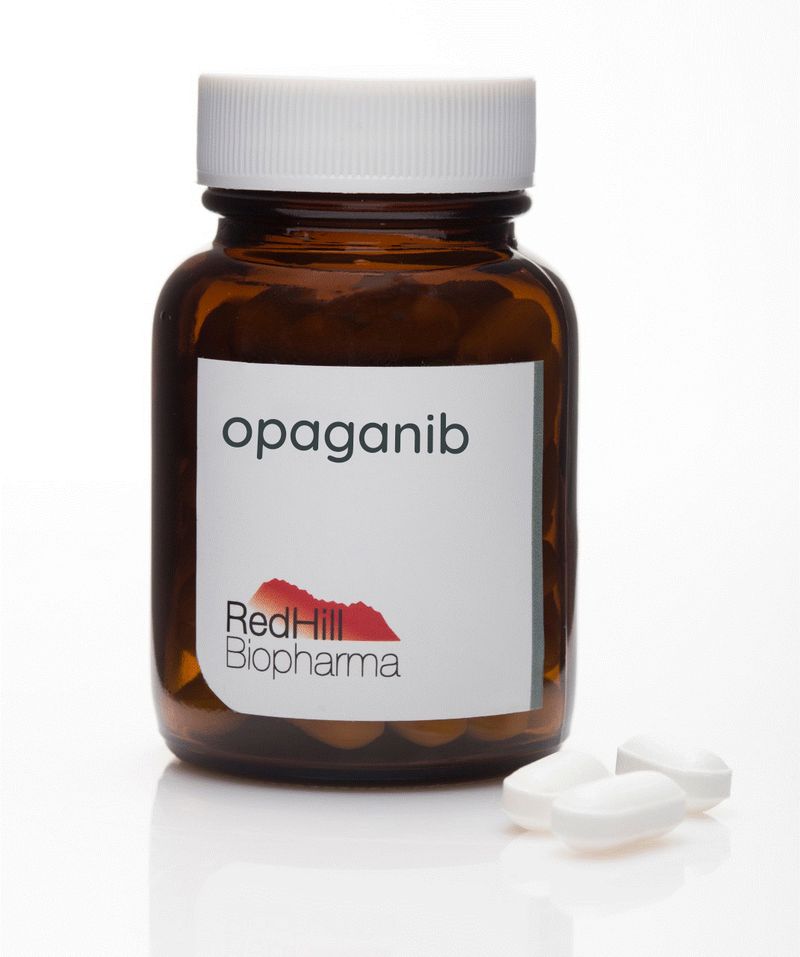 TEL AVIV, Israel and RALEIGH, NC, February 23, 2021 -- RedHill Biopharma Ltd. (Nasdaq: RDHL) ("RedHill" or the "Company"), a specialty biopharmaceutical company, today announced its plans to expand the Company's global Phase 2/3 study of opaganib1 in patients with severe COVID-19 to the U.S., following U.S. Food and Drug Administration (FDA) review of the data from the U.S. Phase 2 study of opaganib and receipt of its recommendations.
Expansion of the global Phase 2/3 study to the U.S. will entail adjustments to the protocol based on the FDA's recommendations and ongoing discussions. The expansion of the study to the U.S. will help further speed-up enrollment, expanding the study to a total of 8 countries and approximately 40 recruiting sites, with additional sites and countries being added. The 464-patient study is over 50% enrolled and is expected to deliver top-line data in the second quarter of 2021.
The global Phase 2/3 study recently underwent a positive DSMB futility review, which is suggestive that the study has the potential for a positive outcome. RedHill recently announced positive top-line safety and efficacy data from the non-powered U.S. Phase 2 study with opaganib in patients with COVID-19 pneumonia, in which opaganib demonstrated greater improvement in reducing oxygen requirement by end of treatment on Day 14 across key primary and secondary efficacy outcomes. The Phase 2 data also showed no material safety differences between the opaganib and placebo treatment arms - further adding to the growing safety database for opaganib.
Opaganib is a novel, orally-administered sphingosine kinase-2 (SK2) inhibitor with demonstrated antiviral, anti-inflammatory, and anti-thrombotic activity, that targets a human cell component involved in viral replication and is therefore expected to be effective against emerging viral variants with mutations in the spike protein.
About Opaganib (Yeliva®, ABC294640)
Opaganib, a new chemical entity, is a proprietary, first-in-class, orally-administered, sphingosine kinase-2 (SK2) selective inhibitor with demonstrated dual anti-inflammatory and antiviral activity that targets a host cell component of viral replication, potentially minimizing the likelihood of viral resistance. Opaganib has also shown anticancer activity and has the potential to target multiple oncology, viral, inflammatory, and gastrointestinal indications.
Opaganib received Orphan Drug designation from the U.S. FDA for the treatment of cholangiocarcinoma and is being evaluated in a Phase 2a study in advanced cholangiocarcinoma and in a Phase 2 study in prostate cancer. Opaganib is also being evaluated as a treatment for COVID-19 pneumonia in a global Phase 2/3 study and has demonstrated positive safety and efficacy signals in preliminary top-line data from a U.S. Phase 2 study.
Preclinical data have demonstrated anti-inflammatory, antiviral and anti-thrombotic activities of opaganib, with the potential to ameliorate inflammatory lung disorders, such as pneumonia, and mitigate pulmonary fibrotic damage. Opaganib demonstrated potent antiviral activity against SARS-CoV-2, the virus that causes COVID-19, completely inhibiting viral replication in an in vitro model of human lung bronchial tissue. Opaganib also demonstrated reduced blood clot length, weight and total thrombus score in a preclinical model of Acquired Respiratory Distress Syndrome. Additionally, preclinical in vivo studies2 have demonstrated that opaganib decreased fatality rates from influenza virus infection and ameliorated Pseudomonas aeruginosa-induced lung injury by reducing the levels of IL-6 and TNF-alpha in bronchoalveolar lavage fluids.
Opaganib was originally developed by U.S.-based Apogee Biotechnology Corp. and completed multiple successful preclinical studies in oncology, inflammation, GI, and radioprotection models, as well as a Phase 1 clinical study in cancer patients with advanced solid tumors and an additional Phase 1 study in multiple myeloma.
The development of opaganib has been supported by grants and contracts from U.S. federal and state government agencies awarded to Apogee Biotechnology Corp., including from the NCI, BARDA, the U.S. Department of Defense and the FDA Office of Orphan Products Development.
The ongoing studies with opaganib are registered on www.ClinicalTrials.gov, a web-based service by the U.S. National Institute of Health, which provides public access to information on publicly and privately supported clinical studies.
About RedHill Biopharma
RedHill Biopharma Ltd. (Nasdaq: RDHL) is a specialty biopharmaceutical company primarily focused on gastrointestinal and infectious diseases. RedHill promotes the gastrointestinal drugs, Movantik® for opioid-induced constipation in adults3, Talicia® for the treatment of Helicobacter pylori (H. pylori) infection in adults4, and Aemcolo® for the treatment of travelers' diarrhea in adults5. RedHill's key clinical late-stage development programs include: (i) RHB-204, with an ongoing Phase 3 study for pulmonary nontuberculous mycobacteria (NTM) disease; (ii) opaganib (Yeliva®, ABC294640), a first-in-class SK2 selective inhibitor targeting multiple indications with positive Phase 2 COVID-19 data and an ongoing Phase 2/3 program for COVID-19 and Phase 2 studies for prostate cancer and cholangiocarcinoma ongoing; (iii) RHB-107 (upamostat), a serine protease inhibitor in a U.S. Phase 2/3 study as treatment for symptomatic COVID-19, and targeting multiple other cancer and inflammatory gastrointestinal diseases; (iv) RHB-104, with positive results from a first Phase 3 study for Crohn's disease; (v) RHB-102 (Bekinda®), with positive results from a Phase 3 study for acute gastroenteritis and gastritis and positive results from a Phase 2 study for IBS-D; and (vi) RHB-106, an encapsulated bowel preparation. More information about the Company is available at www.redhillbio.com / https://twitter.com/RedHillBio.
1 Opaganib is an investigational new drug, not available for commercial distribution.
2 Xia C. et al. Transient inhibition of sphingosine kinases confers protection to influenza A virus infected mice. Antiviral Res. 2018 Oct; 158:171-177. Ebenezer DL et al. Pseudomonas aeruginosa stimulates nuclear sphingosine-1-phosphate generation and epigenetic regulation of lung inflammatory injury. Thorax. 2019 Jun;74(6):579-591.
3 Full prescribing information for Movantik® (naloxegol) is available at: www.Movantik.com.
4 Full prescribing information for Talicia® (omeprazole magnesium, amoxicillin and rifabutin) is available at: www.Talicia.com.
5 Full prescribing information for Aemcolo® (rifamycin) is available at: www.Aemcolo.com.
Source: RedHill Biopharma Ltd.
Posted: February 2021