GSK and CureVac Develop Next-Generation mRNA Vaccine Against COVID-19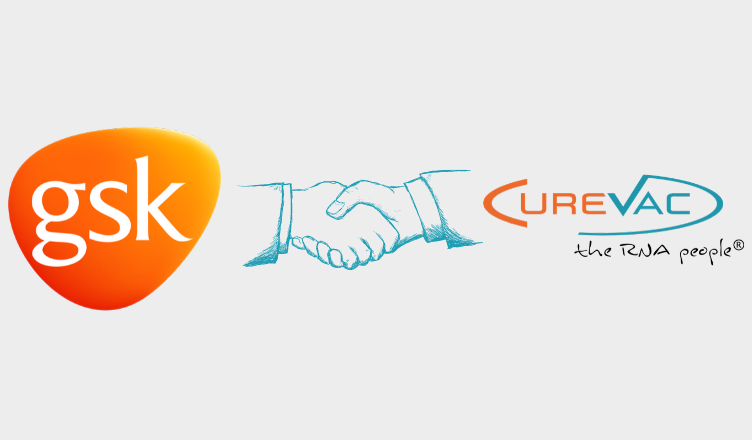 London, UK / Tuebingen, Germany / Boston, USA - February 3, 2021 -- GlaxoSmithKline plc (LSE / NYSE: GSK) and CureVac NV (Nasdaq: CVAC) today announce a new € 150 million collaboration that builds on their existing collaboration. The aim of the cooperation is to develop next-generation mRNA vaccines that have the potential of a multivalent approach against potentially emerging virus variants in a vaccine.
In addition, GSK will support the production of up to 100 million doses of the COVID-19 vaccine candidate CVnCoV in 2021.
As part of this new, exclusive partnership, GSK and CureVac will pool their resources and expertise to research, develop and manufacture multiple mRNA vaccine candidates using multi- and monovalent approaches. The aim of this cooperation is a broader protection against several variants of SARS-CoV2 as well as the possibility of a faster reaction to further variants that may arise in the future. The development program will start immediately with a planned availability of the vaccine in 2022; subject to approval by the authorities.
With the increase in emerging virus variants that have the potential to interfere with the effectiveness of COVID-19 vaccines, efforts must be increased to develop a vaccine that will protect against new variants. This is the only way we can stay one step ahead of the pandemic. These next-generation COVID-19 vaccines can either be used to protect people who have not yet been vaccinated or as a booster if the immune response to an initial vaccination should deteriorate over time. In addition, further possibilities are being evaluated as part of the partnership to develop novel mRNA vaccines that could protect against several respiratory viruses including COVID-19.
The collaboration builds on the COVID-19 vaccine candidate CVnCoV, which is currently being investigated in a clinical phase 2b / 3 study, and using the expertise of CureVac to optimize mRNA so that a sufficient immune response is generated, making the vaccine easy to manufacture and is stable at normal temperatures of 2-8 ° Celsius. The CureVac platform is particularly suitable for the development of multivalent vaccines that produce a balanced immune response with low mRNA levels.
Emma Walmsley, Chief Executive Officer GSK: "We believe that next generation vaccines are critical to the ongoing fight against COVID-19. This new cooperation builds on our existing connections with CureVac. It stands for the fact that we are combining our scientific expertise in mRNA and vaccine development to accelerate the development of new COVID-19 vaccines. At the same time, we will also support the manufacturing of CureVac's first generation COVID-19 vaccine candidate by producing up to 100 million doses in 2021. "
Franz-Werner Haas, Chief Executive Officer of CureVac: "We are very pleased that with this new cooperation we can build on our existing relationship to jointly develop a next-generation COVID-19 vaccine; in addition to our current vaccine candidate CVnCoV. With the support of GSK's pronounced vaccine expertise, we will be able to tackle future health challenges with novel vaccines. "
As part of the new partnership, GSK will also support the manufacture of the first-generation COVID-19 vaccine candidate CVnCoV. This is currently in the phase 2b / 3 clinical trial. GSK will use its production capacity in Belgium to produce up to 100 million doses of the vaccine in 2021. CVnCoV is expected to be submitted to the authorities for review in the second quarter of 2021. Under the terms of the extended partnership, GSK will be the marketing authorization holder for the next generation vaccine, with the exception of Switzerland. GSK will market the vaccine in all countries except Germany, Austria and Switzerland. GSK makes an advance payment of 75 million euros and a further milestone payment of 75 million euros,
About GSK
GSK is one of the world's leading research-based health companies - committed to improving the quality of life to enable people to live more active, longer, and healthier lives. Further information at: www.gsk.com/about-us , www.de.gsk.com and for specialist groups at https://gskpro.com/de-de/ . Visit or subscribe to our newsroom: http://www.presseportal.de/nr/39763 . Follow us on Twitter at GSK Germany ( @gsk_de ).
About CureVac
CureVac is a global biopharmaceutical company in the field of mRNA technology (messenger RNA) with more than 20 years of experience in the development and optimization of this versatile biological molecule for medical purposes. The principle of CureVac's proprietary technology is based on the use of chemically unmodified mRNA as a data carrier to guide the human body to produce the correspondingly coded proteins with which a variety of diseases can be combated. Based on its proprietary technology, the company has built an extensive clinical pipeline in the areas of prophylactic vaccines, cancer therapies, antibody therapies and the treatment of rare diseases. CureVac has been listed on the New York Nasdaq since August 2020. The company is headquartered in Tübingen, Germany, and employs more than 500 people in Tübingen, Frankfurt and Boston, USA. For more information, seewww.curevac.com .
Source: CureVac
Posted: February 2021