Pfizer and BioNTech Publish Data on COVID-19 Vaccine-Induced Antibodies' Ability to Neutralize SARS-CoV-2 U.K. Strain Pseudovirus in Cell Culture in Science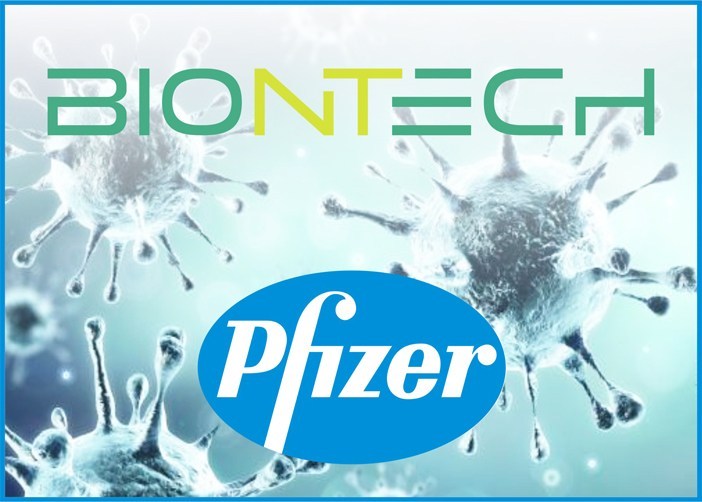 New York, NY and Mainz, Germany, January 29, 2021 -- Pfizer Inc. (NYSE: PFE) and BioNTech SE (Nasdaq: BNTX) today announced that data from an in vitro study on the capability of sera from individuals immunized with the Pfizer-BioNTech COVID-19 vaccine BNT162b2 to neutralize a pseudovirus bearing the SARS-CoV-2 U.K. variant, also known as B.1.1.7 lineage, were published in the journal Science. Some of these data were initially made available to the public on January 20, 2021 via the online preprint server, bioRxiv. The study published today includes a larger number of sera from vaccinated individuals and confirms the initial study results that the B.1.1.7 lineage is unlikely to escape BNT162b2-mediated protection. For additional details, please read the previously issued press release.
The Pfizer-BioNTech COVID-19 Vaccine has not been approved or licensed by the U.S. Food and Drug Administration (FDA), but has been authorized for emergency use by FDA under an Emergency Use Authorization (EUA) to prevent Coronavirus Disease 2019 (COVID-19) for use in individuals 16 years of age and older. The emergency use of this product is only authorized for the duration of the declaration that circumstances exist justifying the authorization of emergency use of the medical product under Section 564 (b) (1) of the FD&C Act unless the declaration is terminated or authorization revoked sooner. Please see Emergency Use Authorization (EUA) Fact Sheet for Healthcare Providers Administering Vaccine (Vaccination Providers) including Full EUA Prescribing Information available at www.cvdvaccine.com.
About BioNTech
Biopharmaceutical New Technologies is a next generation immunotherapy company pioneering novel therapies for cancer and other serious diseases. The Company exploits a wide array of computational discovery and therapeutic drug platforms for the rapid development of novel biopharmaceuticals. Its broad portfolio of oncology product candidates includes individualized and off-the-shelf mRNA-based therapies, innovative chimeric antigen receptor T cells, bi-specific checkpoint immuno-modulators, targeted cancer antibodies and small molecules. Based on its deep expertise in mRNA vaccine development and in-house manufacturing capabilities, BioNTech and its collaborators are developing multiple mRNA vaccine candidates for a range of infectious diseases alongside its diverse oncology pipeline. BioNTech has established a broad set of relationships with multiple global pharmaceutical collaborators, including Genmab, Sanofi, Bayer Animal Health, Genentech, a member of the Roche Group, Regeneron, Genevant, Fosun Pharma, and Pfizer. For more information, please visit www.BioNTech.de.
Source: BioNTech
Posted: January 2021