First Patient Dose Delivered for Lilly's Tirzepatide Cardiovascular Outcomes Trial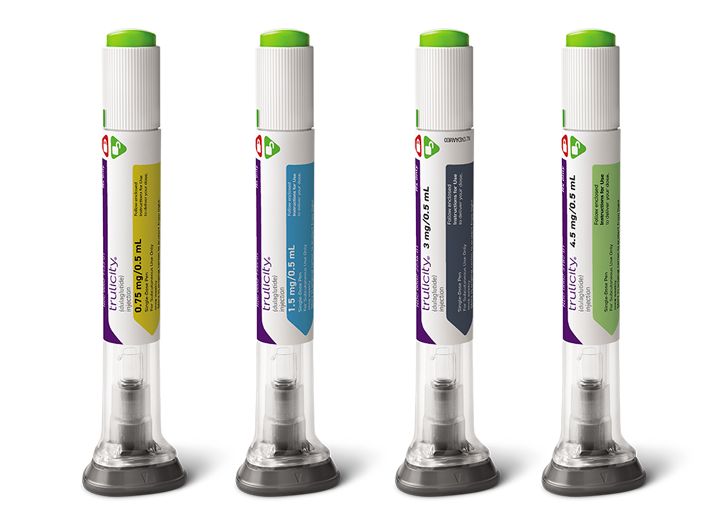 INDIANAPOLIS, June 9, 2020 /PRNewswire/ -- The first patient dose has been delivered in SURPASS-CVOT, the phase 3 cardiovascular outcomes trial for tirzepatide, Eli Lilly and Company's (NYSE: LLY) investigational dual GIP and GLP-1 receptor agonist. The study will assess both non-inferiority and superiority of tirzepatide in a head-to-head trial against Trulicity® (dulaglutide) 1.5 mg – the market leading GLP-1 receptor agonist.
"Lilly is making a bold move by comparing tirzepatide to Trulicity, which is already proven to significantly reduce the risk of major adverse cardiovascular events," said study co-chairs David A. D'Alessio, M.D., Chief in the Division of Endocrinology and Metabolism, Duke University School of Medicine, and Stephen Nicholls, M.B.,B.S., Ph.D., Director of the Monash University Victorian Heart Institute, on behalf of the study's Academic Executive Committee. "SURPASS-CVOT will provide clinicians of people with type 2 diabetes and established cardiovascular disease with important evidence about the potential of tirzepatide to deliver outcomes beyond today's best-in-class medicines."
SURPASS-CVOT (NCT04255433) includes 12,500 participants with type 2 diabetes and atherosclerotic cardiovascular disease from 30 countries. The primary endpoint measures time to first occurrence of MACE-3, the composite endpoint of CV death, myocardial infarction or stroke. Key secondary endpoints measure time to all-cause mortality and time to occurrence of each component of the primary endpoint. Lilly anticipates the trial will take just over four years to complete.
"We are constantly evaluating the needs of people living with diabetes and are committed to researching innovative medicines that reflect the evolution in the standards of diabetes care," said Jeff Riesmeyer, Distinguished Medical Fellow, Lilly. "We are confident in the potential of tirzepatide to help people with type 2 diabetes achieve additional benefits beyond blood glucose control alone and look forward to results from SURPASS-CVOT."
About Diabetes
An estimated 463 million adults worldwide1 have diabetes. Type 2 diabetes is the most common type, accounting for an estimated 90 to 95 percent of all diabetes cases2. Diabetes is a chronic disease that occurs when the body does not properly produce or use the hormone insulin.
About Lilly Diabetes
Lilly has been a global leader in diabetes care since 1923, when we introduced the world's first commercial insulin. Today we are building upon this heritage by working to meet the diverse needs of people with diabetes and those who care for them. Through research, collaboration and quality manufacturing we strive to make life better for people affected by diabetes and related conditions. We work to deliver breakthrough outcomes through innovative solutions—from medicines and technologies to support programs and more. For the latest updates, visit http://www.lillydiabetes.com/ or follow us on Twitter: @LillyDiabetes and Facebook: LillyDiabetesUS.
About Eli Lilly and Company
Lilly is a global health care leader that unites caring with discovery to create medicines that make life better for people around the world. We were founded more than a century ago by a man committed to creating high-quality medicines that meet real needs, and today we remain true to that mission in all our work. Across the globe, Lilly employees work to discover and bring life-changing medicines to those who need them, improve the understanding and management of disease, and give back to communities through philanthropy and volunteerism. To learn more about Lilly, please visit us at lilly.com and lilly.com/newsroom. P-LLY
1 International Diabetes Federation. IDF Diabetes Atlas, 9th edn. Brussels, Belgium: International Diabetes Federation, 2019. Available at: http://diabetesatlas.org.
2 Centers for Disease Control and Prevention. National Diabetes Statistics Report, 2020. Atlanta, GA: Centers for Disease Control and Prevention, U.S. Dept. of Health and Human Services; 2020.
SOURCE Eli Lilly and Company
Posted: June 2020