Amgen Presents New AMG 510 Clinical Data Across Multiple Solid Tumors During ASCO20 Virtual Scientific Program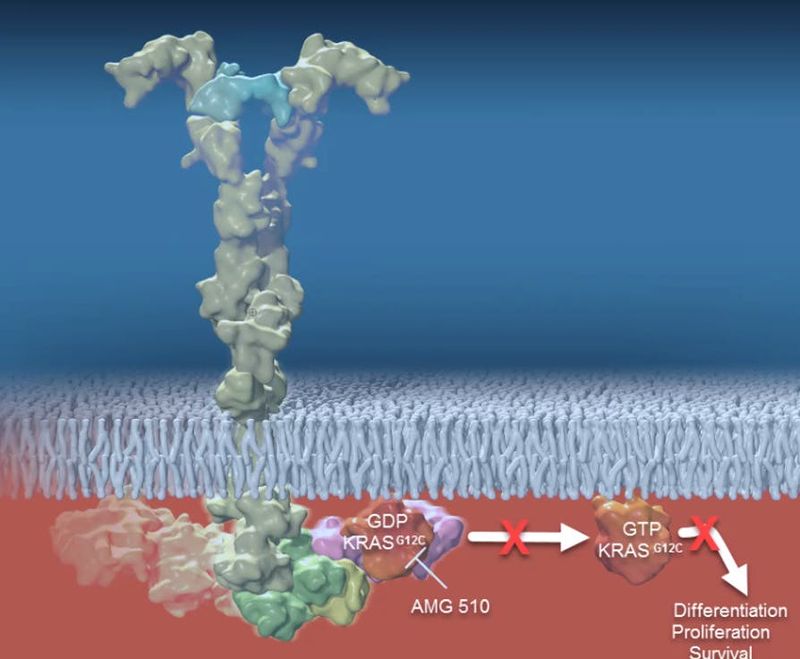 THOUSAND OAKS, Calif., May 29, 2020 /PRNewswire/ -- Amgen (NASDAQ:AMGN) today announced new data from the CodeBreaK 100 clinical development program evaluating investigational AMG 510 (proposed INN sotorasib) in heavily pretreated patients with a range of KRAS G12C-mutant solid tumors. Updated Phase 1 data from patients with advanced colorectal cancer (CRC) and other selected solid tumors continued to demonstrate disease control activity, safety and tolerability. These data are being presented during the ASCO20 Virtual Scientific Program, May 29 – 31, 2020.
"Targeting KRAS has been a 40-year quest leaving patients with limited treatment options. In just under two years in the clinic, we have seen encouraging early efficacy and safety data across a number of solid tumors," said David M. Reese, M.D., executive vice president of Research and Development at Amgen. "New Phase 1 data at ASCO show that, in some patients with advanced colorectal cancer, sotorasib monotherapy provided prolonged disease control. A Phase 2 monotherapy study in advanced colorectal cancer has fully enrolled and will provide further insights into the potential utility of sotorasib in this disease."
Sotorasib Activity in Patients With Advanced Colorectal Cancer
CRC is the second leading cause of cancer deaths worldwide.1 It is the third most commonly diagnosed cancer globally and incidence is expected to grow by more than 20% over the next decade.2 For patients with previously treated metastatic CRC receiving standard therapies, unmet need remains high, with median progression-free survival (PFS) of about 2 months and response rates of less than 2%.3,4
This Phase 1 dose escalation study evaluated 42 heavily pretreated patients with advanced KRAS G12C-mutant CRC (data cut-off of Jan. 2020). All patients received prior systemic therapies (median of three prior lines), with 69% having received three or more prior lines of therapy. Twenty-two (52.4%) and eight (19.0%) patients remained on treatment for more than three and six months, respectively.
In the 960 mg once-daily target dose cohort, the objective response rate (ORR) was 12% (3/25) and the disease control rate (DCR) was 80% (20/25). Median PFS was 4.2 months and overall survival (OS) had not been reached after a median follow-up of almost 8 months. Tumor shrinkage was observed in 11 of 23 patients with available post-baseline tumor data.
Across all dose levels, the majority of patients achieved disease control, with an ORR of 7.1% and a DCR of 76.2%. Disease stability was maintained for a median of 4.2 months. Median PFS was 4.0 months and median OS was 10.1 months. Tumor shrinkage was observed in 18 of 39 patients with available post-baseline tumor data across all doses.
"There is currently a tremendous treatment gap for patients with advanced KRAS G12C-mutant colorectal cancer," said Marwan G. Fakih, M.D., primary study investigator and co-director of the Gastrointestinal Cancer Program, City of Hope, Duarte, California. "These latest sotorasib data continue to show encouraging antitumor activity and tolerability in a patient population that has few treatment options."
Disease progression was the most common reason for treatment discontinuation. The majority of treatment-related adverse events (TRAEs) were Grade 1 and 2. Only two TRAEs were Grade 3 (diarrhea and anemia). There were no Grade 4 or higher TRAEs.
Sotorasib Activity in Patients With Advanced Solid Tumors Other Than NSCLC or CRC
Data were evaluated for 25 heavily pretreated patients with advanced KRAS G12C-mutant solid tumors other than CRC or NSCLC. These patients had received a median three prior lines of therapy with a median follow-up of 4.3 months.
These data demonstrated early evidence of a consistent safety profile and anticancer activity across a range of advanced KRAS G12C-mutant solid tumors, including pancreatic, appendiceal and endometrial cancer. Partial responses were confirmed in three patients with appendiceal, melanoma and endometrial cancer, respectively. Six of eight evaluable patients with pancreatic cancer achieved stable disease, and three had approximately a 30% reduction in tumor burden from baseline. Tumor shrinkage was observed in 13 of 19 evaluable patients with available post-baseline tumor data across all tumor types.
A complete listing of Amgen posters is available on the ASCO website at www.asco.org.
About KRAS
The subject of almost four decades of research, the RAS gene family contains the most frequently mutated oncogenes in human cancers.5,6 Within this family, KRAS is the most prevalent variant and is particularly common in solid tumors.5 A specific mutation known as KRAS G12C is found in approximately 13% of non-small cell lung cancers, 3% to 5% of colorectal cancers and 1% to 2% of numerous other solid tumors.7-9 The KRASG12C protein has been considered "undruggable" due to a lack of traditional small molecule binding pockets on the protein. Amgen is exploring the potential of KRASG12C inhibition across a broad variety of solid tumor types.
About CodeBreaK
The CodeBreaK clinical trial program for Amgen's investigational drug sotorasib is designed to treat patients with multiple KRAS G12C-mutant solid tumors and address the longstanding unmet medical need for these cancers.
CodeBreaK 100, the Phase 1 and 2, first-in-human, open-label multicenter study, enrolled patients with KRAS G12C-mutant solid tumors. Eligible patients were heavily pretreated with at least two or more prior lines of treatment, consistent with their tumor type and stage of disease. The primary endpoint for the Phase 1 study is safety, and key secondary endpoints include objective response rate (assessed every six weeks), duration of response and progression-free survival. Patients were enrolled in four dose cohorts: 180 mg, 360 mg, 720 mg and 960 mg, taken orally once a day.
Amgen's single-arm Phase 2 trials in both non-small cell lung cancer (NSCLC) and colorectal cancer (CRC) (also part of CodeBreaK 100) are now fully enrolled. The potentially registrational Phase 2 trial in NSCLC is on track for data readout in 2020. The Phase 2 CRC trial is expected to have a data readout in early 2021.
Amgen is currently enrolling six Phase 1b combination studies across various advanced solid tumors (CodeBreaK 101). In addition, a randomized global Phase 3 confirmatory study in NSCLC (CodeBreaK 200) has been initiated. Additional information about CodeBreaK clinical trials can be found at http://www.codebreaktrials.com.
About Amgen Oncology
Amgen Oncology is searching for and finding answers to incredibly complex questions that will advance care and improve lives for cancer patients and their families. Our research drives us to understand the disease in the context of the patient's life – not just their cancer journey – so they can take control of their lives.
For the last four decades, we have been dedicated to discovering the firsts that matter in oncology and to finding ways to reduce the burden of cancer. Building on our heritage, Amgen continues to advance the largest pipeline in the Company's history, moving with great speed to advance those innovations for the patients who need them.
At Amgen, we are driven by our commitment to transform the lives of cancer patients and keep them at the center of everything we do.
To learn more about Amgen's innovative pipeline with diverse modalities and genetically validated targets, please visit AmgenOncology.com. For more information, follow us on www.twitter.com/amgenoncology.
About Amgen
Amgen is committed to unlocking the potential of biology for patients suffering from serious illnesses by discovering, developing, manufacturing and delivering innovative human therapeutics. This approach begins by using tools like advanced human genetics to unravel the complexities of disease and understand the fundamentals of human biology.
Amgen focuses on areas of high unmet medical need and leverages its expertise to strive for solutions that improve health outcomes and dramatically improve people's lives. A biotechnology pioneer since 1980, Amgen has grown to be one of the world's leading independent biotechnology companies, has reached millions of patients around the world and is developing a pipeline of medicines with breakaway potential.
For more information, visit www.amgen.com and follow us on www.twitter.com/amgen.
References
1 Bray F, et al. CA Cancer J Clin. 2018;68:394-424.
2 Arnold, M, et al. Gut. 2017;66:683–691.
3 Mayer RJ, et al. N Engl J Med. 2015;372:1909-1919.
4 Grothey A, et al. Lancet. 2013;381:303-312.
5 Cox AD, et al. Nat Rev Drug Discov. 2014;13:828-851.
6 Fernandez-Medarde A, et al. Genes Cancer. 2011;2:344-358.
7 Biernacka A, et al. Cancer Genet. 2016;209:195-198.
8 Neumann J, et al. Pathol Res Pract. 2009;205:858-862.
9 Zhou L, et al. Med Oncol. 2016;33:32.
SOURCE Amgen
Posted: May 2020