DREAMM-2 and DREAMM-6 Data at ASCO Reinforce the Potential of GSK's Investigational Belantamab Mafodotin in Patients with Relapsed/Refractory Multiple Myeloma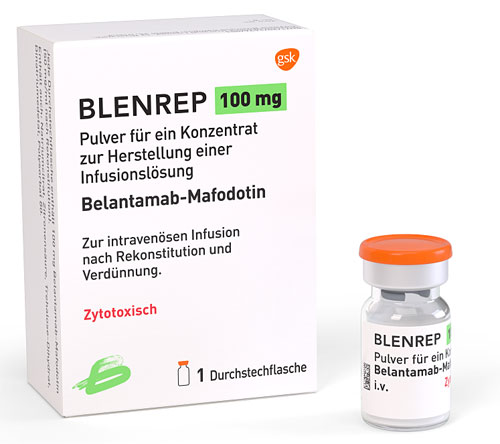 London UK May 27, 2020 -- GlaxoSmithKline (GSK) plc today announced new data from the DREAMM (DRiving Excellence in Approaches to Multiple Myeloma) clinical programme, which further highlight the potential of the investigational anti-BCMA (antibody drug conjugate against B-cell maturation antigen) agent belantamab mafodotin for relapsed/refractory multiple myeloma both as a monotherapy and in combination. The data are being presented at the 2020 American Society of Clinical Oncology annual meeting.
In the 13-month follow-up data from the DREAMM-2 study (abstract #8536), treatment with single-agent belantamab mafodotin, administered as a 2.5 mg/kg dose every three weeks (Q3W), showed a median duration of response (DoR) of 11 months (95% CI, 4.2–not reached) and a median overall survival (OS) of 14.9 months (95% CI, 9.9–not reached) in a heavily pre-treated patient population who received a median of seven prior lines of treatment and were refractory to an immunomodulatory drug, a proteasome inhibitor and an anti-CD38 antibody. The overall response rate (ORR) was consistent with the six-month data at 32% (31 out of 97 patients). Of these patients, the majority (58%) had a very good partial response or greater, including two stringent complete responses and five complete responses. The proportion of patients achieving clinical benefit (minimal response or better) was 36% (95% CI, 26.6–46.5).
Dr Axel Hoos, Senior Vice President and Head of Oncology R&D, GSK said: "The updated results from the DREAMM-2 study being presented at ASCO further demonstrate the potential of belantamab mafodotin to help address a significant unmet need for patients whose multiple myeloma continues to progress despite available treatment options. We are encouraged by these data as we work to bring belantamab mafodotin to patients suffering from this aggressive disease."
No new safety signals were identified with longer term follow-up with belantamab mafodotin. The most commonly reported grade 3 or higher adverse events (occurring in more than 10% of patients) in patients receiving the 2.5 mg/kg dose were keratopathy/microcyst-like epithelial changes (MECs) (46%), thrombocytopenia (22%), anaemia (21%), lymphocyte count decreased (13%) and neutropenia (11%). The first event of keratopathy (MECs) – characterised as changes in the corneal epithelium as seen on eye examination which can manifest with or without symptoms – had resolved in 77% of patients in the 2.5 mg/kg arm at time of data cut-off and no permanent loss of vision has been reported to date.
Belantamab mafodotin is not currently approved for use anywhere in the world.
Dr Sagar Lonial, Chief Medical Officer of the Winship Cancer Institute of Emory University and principal investigator of the DREAMM-2 study said: "Despite our best efforts, a significant number of patients will relapse following treatment with an immunomodulatory drug, proteasome inhibitor and an anti-CD38 antibody. For this reason, we need novel therapies that not only induce responses, but maintain them as long as possible. These latest results from DREAMM-2 continue to reinforce that belantamab mafodotin has the potential to be an important treatment option for patients whose disease continues to progress despite currently available therapies."
The DREAMM-2 study serves as the basis for the belantamab mafodotin Biologics License Application and Marketing Authorisation Application, which are currently under review by the US Food and Drug Administration and European Medicines Agency, respectively.
Initial results from the DREAMM-6 study (abstract #8502) examining belantamab mafodotin in combination with bortezomib/dexamethasone (BorDex) in patients whose disease has become refractory or relapsed after one or more prior lines of treatment are also being presented at ASCO. In this analysis, belantamab mafodotin 2.5 mg/kg Q3W plus BorDex (B-Vd) resulted in an ORR of 78% (14 out of 18 patients), with 50% achieving a very good partial response and 28% achieving a partial response (95% CI, 52.4–93.6). The proportion of patients achieving clinical benefit (minimal response or better) was 83% (95% CI 58.6–96.4). The median DoR has not yet been reached at a median of 18.2 weeks on treatment.
Grade 3 or greater adverse events included keratopathy (MECs) (56%) and thrombocytopenia (61%). There were no cases of grade 4 keratopathy (MECs).
Hoos added: "We are encouraged by these initial results from the DREAMM-6 study showing the potential of combination therapy with belantamab mafodotin in patients with earlier stages of multiple myeloma and look forward to sharing the full data once it is available."
About DREAMM-2
DREAMM-2 is an open label study of belantamab mafodotin. Patients in the trial had actively progressing multiple myeloma that had worsened despite current standard of care and were randomised to two arms to receive either 2.5 mg/kg or 3.4 mg/kg belantamab mafodotin Q3W. Overall, patients in DREAMM-2 had more advanced disease, poorer prognosis and performance status and also had a greater number of prior lines of therapy in comparison with patients in DREAMM-1, the first time in human study of belantamab mafodotin.
About DREAMM-6
DREAMM-6 is an open label phase I/II study evaluating the safety, tolerability and efficacy of belantamab mafodotin when administered in combination with approved regimens of either lenalidomide plus dexamethasone (Len/Dex; Arm A) or Bor/Dex (Arm B) in patients with RRMM who have become refractory or relapsed after one or more prior lines of treatment. Part 1 of the study is a dose escalation phase to evaluate the safety and tolerability of up to three dose levels and up to two dosing schedules of belantamab mafodotin in combination Len/Dex or Bor/Dex. Part 2 will further evaluate the safety and preliminary clinical activity of belantamab mafodotin at selected dose levels and dosing schedules in combination with Len/Dex or Bor/Dex.
About Multiple Myeloma
Multiple myeloma is the third most common blood cancer and is generally considered treatable, but not curable.[i] Research into new therapies is needed as multiple myeloma commonly becomes refractory to available treatments.[ii]
About B-cell maturation antigen (BCMA)
The normal function of BCMA is to promote plasma cell survival by transduction of signals from two known ligands, BAFF (B-cell activating factor) and APRIL (a proliferation-inducing ligand). This pathway has been shown to be important for myeloma cell growth and survival. BCMA expression is limited to B cells at later stages of development. BCMA is expressed at varying levels in myeloma patients and BCMA membrane expression is universally detected in myeloma cell lines.[iii]
About belantamab mafodotin (GSK2857916)
Belantamab mafodotin is an investigational antibody drug conjugate comprising a humanised anti-B cell maturation antigen (BCMA) monoclonal antibody conjugated to the cytotoxic agent auristatin F via non-cleavable linker.[iv] The drug linker technology is licensed from Seattle Genetics; monoclonal antibody is produced using POTELLIGENT Technology licensed from BioWa.
GSK in Oncology
GSK is focused on maximising patient survival through transformational medicines. GSK's pipeline is focused on immuno-oncology, cell therapy, cancer epigenetics, and synthetic lethality. Our goal is to achieve a sustainable flow of new treatments based on a diversified portfolio of investigational medicines utilising modalities such as small molecules, antibodies, antibody drug conjugates and cells, either alone or in combination.
About GSK
GSK is a science-led global healthcare company with a special purpose: to help people do more, feel better, live longer. For further information please visit www.gsk.com/about-us.
[i] Estimated number of incident cases worldwide, both sexes, all ages. World Health Organization. https://gco.iarc.fr/ Published 2020. Accessed May 2020.[ii] Nooka A, Kastritis E, Dimopoulos M, Lonial S. Treatment options for relapsed and refractory multiple myeloma. Blood. 2015;125(20):3085-3099. doi:10.1182/blood-2014-11-568923.
[iii] Trudel S, Lendvai N, Popat R, et al. Antibody–drug conjugate, GSK2857916, in relapsed/refractory multiple myeloma: an update on safety and efficacy from dose expansion phase I study. Blood Cancer Journal. 2019;9(4). doi:10.1038/s41408-019-0196-6.
[iv] NCI Drug Dictionary - Anti-BCMA Antibody-Drug Conjugate GSK2857916. National Cancer Institute. https://www.cancer.gov/publications/dictionaries/cancer-drug/def/anti-bcma-antibody-drug-conjugate-gsk2857916.
Accessed May 2020.
Source: GSK
Posted: May 2020