Mirati Therapeutics Presents Data From Ongoing Clinical Trials Of Sitravatinib In Combination With Nivolumab At The SITC 34th Annual Meeting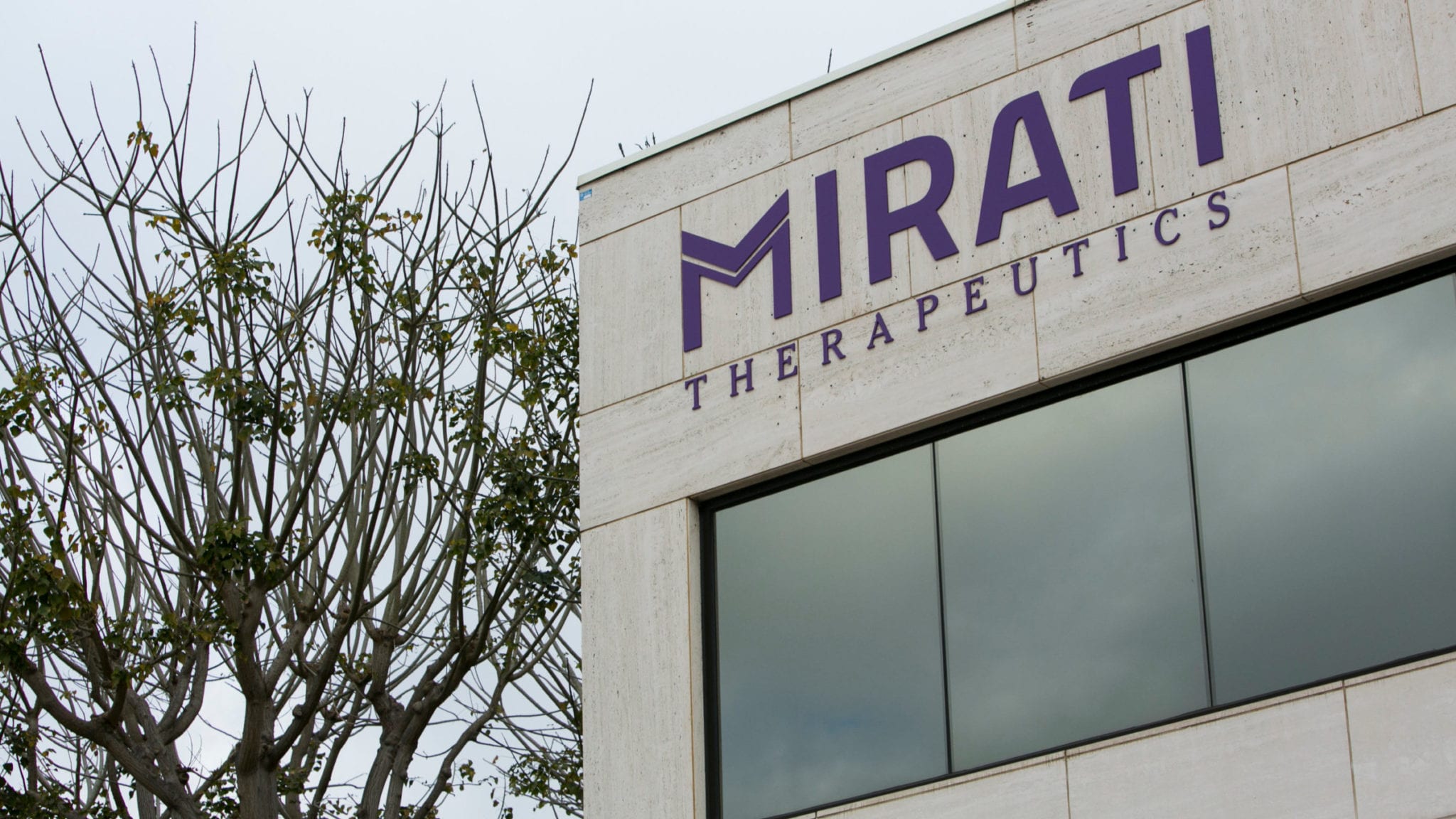 SAN DIEGO, Nov. 9, 2019 /PRNewswire/ -- Mirati Therapeutics, Inc. (NASDAQ: MRTX), a clinical stage targeted oncology company, today announced the presentation of initial data from its ongoing Phase 2 clinical trial of sitravatinib in combination with nivolumab (OPDIVO®) in metastatic urothelial cancer (mUC) patients with documented progression on a platinum-chemotherapy and checkpoint inhibitor. The data were presented in an oral presentation at the Society of Immunotherapy of Cancer (SITC) 34th Annual Meeting in National Harbor, MD. Preliminary results from the ongoing Phase 1 study of neoadjuvant sitravatinib combined with nivolumab in patients with resectable squamous cell carcinoma of the oral cavity (SNOW trial) were also presented in a poster session.
"Sitravatinib is a spectrum-selective kinase inhibitor that potently inhibits receptor tyrosine kinases, including TAM family receptors (TYRO3, Axl, Mer), that has the potential to increase responsiveness in patients whose tumors are resistant to checkpoint inhibitors. The initial efficacy data from the Phase 2 clinical trial presented today in patients with checkpoint refractory mUC is promising and extends the clinical benefit data beyond what has already been demonstrated by sitravatinib combined with nivolumab in checkpoint refractory non-small cell lung cancer (NSCLC)," said Charles M. Baum, M.D., Ph.D., President and Chief Executive Officer of Mirati. "In addition, we are evaluating sitravatinib in patients who have progressed on checkpoint therapy, including those with NSCLC and renal cell cancer, and we continue to expand development efforts of sitravatinib through our collaboration with BeiGene in multiple indications including NSCLC, renal cell cancer, hepatocellular cancer, ovarian cancer, and gastric cancer."
The ongoing Phase 2 clinical trial, an open-label, multi-cohort trial, is enrolling patients with advanced or metastatic urothelial cancer who had been previously treated with a platinum-chemotherapy and checkpoint inhibitor and had documented disease progression. Data from Cohort 1 of the trial were presented, where patients must have also received prior platinum-based chemotherapy. Trial objectives included tumor regression, safety and pharmacokinetics.
As of the data cut-off date of October 17, 2019, 22 patients were evaluable for response with at least one radiographic scan:
6/22 evaluable patients achieved a confirmed Complete Response (CR, 1 patient) or Partial Response (PR, 5 patients).

21/22 evaluable patients achieved a CR, PR or stable disease.

4 responding patients have been treated for more than 6 months.
The combination has been well-tolerated and most adverse events (AEs) were Grade 1 or 2.
Additionally, preliminary results from the Phase 1 SNOW trial (sitravatinib and nivolumab in oral cavity cancer window of opportunity study) were shown in a poster presentation. The preliminary data suggest that the combination of neoadjuvant sitravatinib and nivolumab is safe and active in patients with squamous cell carcinoma of the oral cavity who are candidates for resection. As of the data cut-off date of October 9, 2019, 9 patients had been enrolled (1 is active and 8 are in follow-up). Tumor reduction was observed in all eight patients who were eligible for evaluation, including one complete pathological response. All patients received postoperative radiation therapy, and none required postoperative chemotherapy. With a median follow-up of 31.4 weeks, all patients are alive with no disease recurrence to date. In most patients, treatment with sitravatinib led to a decrease in myeloid-derived suppressor cells and a shift towards M1-type macrophages in the tumor microenvironment, supporting previous preclinical findings. (Article from : www.drugs.com)