FDA Approves Sogroya (somapacitan-beco) a Once-Weekly Treatment for Adult Growth Hormone Deficiency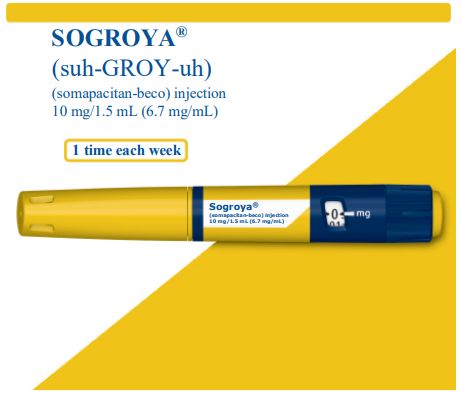 Plainsboro, NJ, Aug 28, 2020 -- Novo Nordisk today announced that the U.S. Food and Drug Administration (FDA) has approved the Biologics License Application for Sogroya (somapacitan-beco) injection 10 mg/ 1.5 mL (6.7 mg/mL) for the replacement of endogenous growth hormone in adults with growth hormone deficiency (GHD). Adults diagnosed with GHD do not produce sufficient growth hormone.
Sogroya is a human growth hormone analog taken once a week by subcutaneous injection. The FDA's decision is based on a comprehensive clinical program, including the REAL 1 study, a 35-week, double-blind, placebo-controlled study, in treatment-naïve adult patients with GHD.
About Adult Growth Hormone Deficiency
Growth hormone is produced by the pituitary gland. In adults, GHD can affect their bodies in many ways including changes in body composition, lipids, carbohydrate metabolism, bones, and muscle mass1. More than 50,000 adults in the United States have GHD, with about 6,000 new patients diagnosed each year2.
What is Sogroya?
Sogroya (somapacitan-beco) injection 10 mg/1.5 mL (6.7 mg/mL) is a prescription medicine that contains human growth hormone, the same growth hormone made by the body and is used to treat adults who do not make enough growth hormone.
It is not known if Sogroya is safe and effective in children.
Important Safety Information
Do not use Sogroya if:
you have a critical illness caused by certain types of heart or stomach surgery, trauma or breathing problems

you have cancer or other tumors

you are allergic to somapacitan-beco or any of the ingredients in Sogroya®

your healthcare provider tells you that you have certain types of eye problems caused by diabetes
Before taking Sogroya®, tell your healthcare provider about all of your medical conditions, including if you:
have had heart or stomach surgery, trauma or serious breathing problems

have had cancer or any tumor

have diabetes

have adrenal gland problems

are taking replacement therapy with glucocorticoids

have thyroid gland problems

have liver problems

are pregnant or plan to become pregnant. It is not known if Sogroya will harm your unborn baby. Talk to your healthcare provider if you are pregnant or plan to become pregnant

are breastfeeding or plan to breastfeed. It is not known if Sogroya passes into your breast milk. You and your healthcare provider should decide if you will take Sogroya while you breastfeed
Tell your healthcare provider about all the medicines you take, including prescription and over-the-counter medicines, vitamins, and herbal supplements. Sogroya may affect the way some medicines work, and some medicines may affect the way Sogroya® works.
How should I use Sogroya?
Take Sogroya® exactly as your healthcare provider tells you to

Use Sogroya® 1 time each week

If you miss a dose of Sogroya®, take the missed dose as soon as possible within 3 days (72 hours) after the missed dose. If more than 3 days (72 hours) have passed, skip the missed dose and take your next dose on the regularly scheduled day

Sogroya® pens are for use by 1 person only

Do not share your Sogroya® pens and needles with another person, even if the needle has been changed. You may give another person an infection or get an infection from them
What are the possible side effects of Sogroya?
Sogroya may cause serious side effects, including:
high risk of death in people who have critical illnesses because of heart or stomach surgery, trauma or serious breathing problems

increased risk of growth of cancer or a tumor that is already present and increased risk of the return of cancer. Your healthcare provider will need to monitor you for a return of cancer or a tumor. Contact the healthcare provider if you start to have changes in moles, birthmarks, or the color of your skin

new or worsening high blood sugar or diabetes. Your blood sugar may need to be monitored during treatment with Sogroya®

increase in pressure in the skull. If you have headaches, eye problems, nausea or vomiting, contact the healthcare provider

serious allergic reactions. Get medical help right away if you have the following symptoms: swelling of your face, lips, mouth, or tongue, trouble breathing, wheezing, severe itching, skin rashes, redness, or swelling, dizziness or fainting, fast heartbeat or pounding in your chest, sweating

your body holding too much fluid such as swelling in the hands and feet, pain in your joints or muscles or nerve problems that cause pain, burning or tingling in the hands, arms, legs and feet. Tell your healthcare provider if you have any of these signs or symptoms of fluid retention

decrease in a hormone called cortisol. The healthcare provider will do blood tests to check your cortisol levels. Tell your healthcare provider if you have darkening of the skin, severe fatigue, dizziness, weakness, or weight loss

decrease in thyroid hormone levels. Decreased thyroid hormone levels may affect how well Sogroya works

severe and constant abdominal pain. This could be a sign of pancreatitis. Tell your healthcare provider if you have any new abdominal pain

loss of fat and tissue weakness in the area of skin you inject. Talk to your healthcare provider about rotating the areas where you inject Sogroya
increase in phosphorus, alkaline phosphatase and parathyroid hormone levels in your blood
The most common side effects of Sogroya may include back pain, joint pain, indigestion, sleep problems, dizziness, swelling of the tonsils, vomiting, high blood pressure, increase in the level of an enzyme in your blood called creatine phosphokinase, weight gain, and low red blood cells
About Novo Nordisk
Novo Nordisk is a global healthcare company that's been making innovative medicines to help people with diabetes lead longer, healthier lives for 95 years. This heritage has given us experience and capabilities that also enable us to help people defeat other serious diseases including obesity, hemophilia and growth disorders. We remain steadfast in our conviction that the formula for lasting success is to stay focused, think long-term and do business in a financially, socially and environmentally responsible way. With U.S. headquarters in New Jersey and production and research facilities in six states, Novo Nordisk employs nearly 6,000 people throughout the country. For more information, visit novonordisk.us, Facebook, Instagram and Twitter.
References
1. Kargi A, Merriam G. Diagnosis and treatment of growth hormone deficiency in adults. Nat Rev Endocronol. 2013;(9):335-345

2. Brod M, Pohlman B, Hojbjerre L, Adalsteinsson JE, Rasmussen MH. Impact of adult growth hormone deficiency on daily functioning and well-being. BMC Research Notes. 2014;7(813):1-9.
Source: Novo Nordisk
Posted: August 2020