Novartis Announces MET Inhibitor Capmatinib (INC280), the First Potential Treatment for METex14 Mutated Advanced Non-Small Cell Lung Cancer, Granted Priority FDA Review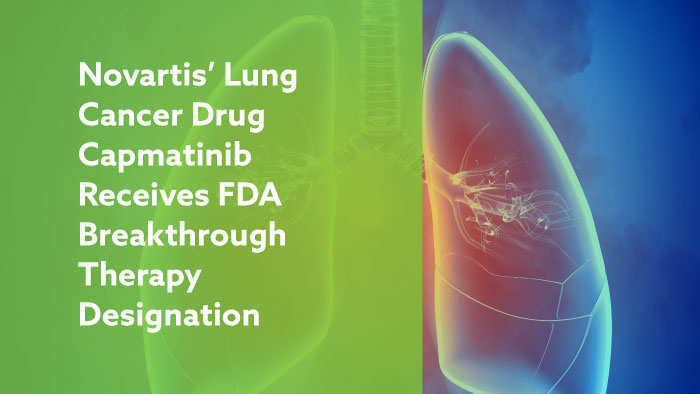 EAST HANOVER, N.J., Feb. 11, 2020 /PRNewswire/ -- Novartis announced today that the US Food and Drug Administration (FDA) accepted and granted Priority Review to capmatinib's (INC280) New Drug Application (NDA). Capmatinib is a MET inhibitor being evaluated as a treatment for first-line and previously treated patients with locally advanced or metastatic MET exon 14 skipping (METex14) mutated non-small cell lung cancer (NSCLC). If approved, capmatinib will be the first therapy to specifically target METex14 mutated advanced lung cancer, a type of lung cancer with a particularly poor prognosis2,3.
Priority Review is granted to therapies that the FDA determines have the potential to provide significant improvements in the treatment, diagnosis or prevention of serious conditions. This designation shortens the FDA review period following the acceptance of the NDA to six months compared to ten months under Standard Review. Novartis was previously granted Breakthrough Therapy designation for capmatinib.
There are currently no approved therapies that specifically target METex14 mutated advanced NSCLC. NSCLC accounts for approximately 85% of lung cancer diagnoses4. METex14 mutations occur in 3-4% of newly diagnosed advanced NSCLC cases5 and is a recognized oncogenic driver6,7. As part of the continued collaboration between Novartis and Foundation Medicine, Inc., companion diagnostics for capmatinib are in development for both tumor tissue and liquid biopsies to be included on FoundationOne®CDx* and the forthcoming version of Foundation Medicine's liquid biopsy platform, which is currently under review with the FDA. Foundation Medicine is a leading provider of comprehensive genomic profiling solutions for patients with advanced cancer, including NSCLC.
"We are extremely encouraged by the FDA's Priority Review designation for capmatinib, a MET inhibitor that may be a major treatment advance for patients with this particularly aggressive form of lung cancer," said John Tsai, M.D., Head of Global Drug Development and Chief Medical Officer, Novartis. "Results of the GEOMETRY mono-1 trial clearly identify METex14 as an oncogenic driver and we are inspired to bring capmatinib, potentially the first METex14 targeted therapy, to patients and to reimagine medicine and outcomes for people with lung cancer."
The NDA submission for capmatinib is supported by results from the GEOMETRY mono-1 Phase II study, which demonstrated an overall response rate of 67.9% (95% CI, 47.6 - 84.1)1 and 40.6% (95% CI, 28.9 - 53.1)1 among treatment-naïve and previously treated patients, respectively, based on the Blinded Independent Review Committee (BIRC) assessment per RECIST v1.1. The study also demonstrated that capmatinib provided durable responses among all patients: median duration of response was 11.14 months (95% CI, 5.55 - NE) in treatment-naïve patients and 9.72 months (95% CI, 5.55 - 12.98) in previously treated patients1.
All results were based on independent assessment by the BIRC, and all tumor CT scans were evaluated in parallel by two radiologists to confirm the response1. The most common treatment-related adverse events (AE) (≥ 10% all grades) across all cohorts (N=334), were peripheral edema (42%), nausea (33%), creatinine increase (20%), vomiting (19%), fatigue (14%), decreased appetite (13%) and diarrhea (11%). The majority of the AEs were grades 1/21.
About Lung Cancer
Lung cancer is the most common cancer worldwide, accounting for 2.1 million new cases and 1.8 million deaths in 20188. There are two main types of lung cancer – small cell lung cancer (SCLC) and non-small cell lung cancer (NSCLC)9. NSCLC accounts for approximately 85% of lung cancer diagnoses, inclusive of known oncogenic mutations4. The MET exon 14 skipping mutation occurs in 3-4% of newly diagnosed advanced NSCLC cases5. There are currently no approved therapies specifically targeted to treat METex14 mutated advanced lung cancer.
About Capmatinib
Capmatinib (INC280) is an investigational, oral, potent and selective MET inhibitor licensed to Novartis by Incyte Corporation in 2009. Under the Agreement, Incyte granted Novartis worldwide exclusive development and commercialization rights to capmatinib and certain back-up compounds in all indications. (Article from : www.drugs.com)