Agios Establishes Proof-of-Concept for Mitapivat in Non-transfusion-dependent Thalassemia Based on Preliminary Phase 2 Results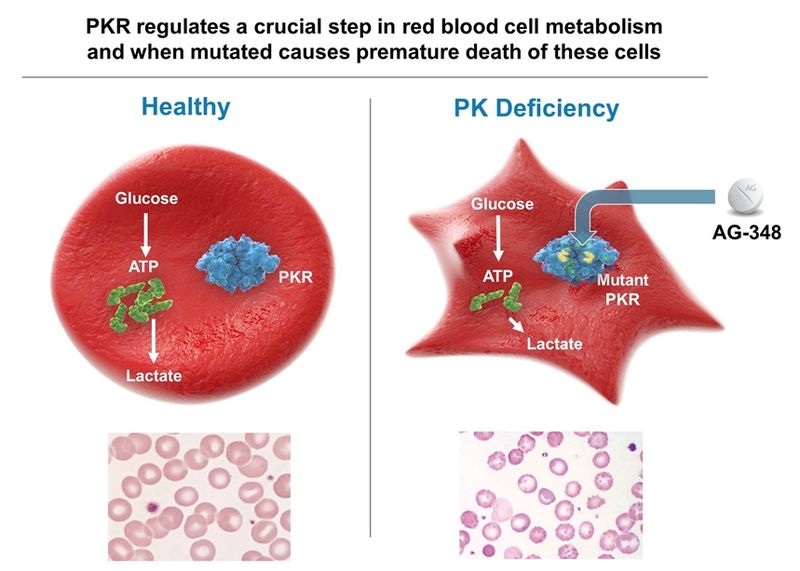 CAMBRIDGE, Mass., Dec. 08, 2019 (GLOBE NEWSWIRE) -- Agios Pharmaceuticals, Inc. (NASDAQ:AGIO), a leader in the field of cellular metabolism to treat cancer and rare genetic diseases, today announced that clinical proof-of-concept has been established based on a preliminary analysis of the Phase 2 trial of mitapivat (AG-348) in patients with non-transfusion-dependent thalassemia. Mitapivat is an investigational, first-in-class, oral, small molecule allosteric activator of wild-type and a variety of mutated pyruvate kinase-R (PKR) enzymes.
The Phase 2 study has enrolled 12 of the intended 17 patients (nine with β-thalassemia and three with α-thalassemia). As of the November 14, 2019 data cutoff date, eight patients, all with β-thalassemia, were evaluable for the primary endpoint of a hemoglobin increase of ≥1.0 g/dL from baseline in at least one assessment during Weeks 4-12. All eight patients were treated with 50 mg of mitapivat twice daily for the first six weeks and escalated to 100 mg twice daily, and all patients remain on treatment (range 12.4-34.3 weeks). Seven of eight efficacy evaluable patients achieved a hemoglobin increase of ≥1.0 g/dL, and for responders the mean hemoglobin increase from baseline was 1.76 g/dL (range, 0.9–3.3 g/dL) during Weeks 4-12. The majority of adverse events were Grade 1 or 2 and consistent with previously published Phase 2 data for mitapivat in patients with pyruvate kinase (PK) deficiency. Updated results from the Phase 2 thalassemia study will be presented at a medical meeting in the first half of 2020.
"These data demonstrate proof of concept that activation of wild-type PKR has the potential to convey clinical benefit in thalassemia and provides compelling evidence to broaden mitapivat clinical development in this disease," said Chris Bowden, M.D., chief medical officer at Agios. "The safety and tolerability profile observed in this trial and in adults with pyruvate kinase deficiency supports the continued investigation of mitapivat treatment across severe, lifelong hemolytic anemias such as pyruvate kinase deficiency, thalassemia and sickle cell disease."
Mitapivat Phase 2 Trial in Thalassemia
The ongoing Phase 2 study is evaluating the efficacy, safety, pharmacokinetics and pharmacodynamics of treatment with mitapivat in adults with non-transfusion-dependent β- and α-thalassemia (NTDT). This study includes a 24-week core period followed by a 2-year extension period for eligible participants. The primary endpoint is hemoglobin response. Approximately 17 participants with NTDT who have a baseline hemoglobin concentration of ≤10 g/dL will be enrolled. The initial dose of mitapivat is 50 mg twice daily with one potential dose-level increase to 100 mg twice daily, at the week six visit based on the participant's safety and hemoglobin (Hb) concentrations. With a total of 17 patients enrolled, the study would have 80% power to reject a ≤30% response rate at a one-sided 0.05 type 1 error rate.
Mitapivat Clinical Development
Agios has two ongoing global, pivotal trials in adults with PK deficiency that are on track to complete enrollment by year-end 2019. Learn more at activatetrials.com.
ACTIVATE: A placebo-controlled trial with a 1:1 randomization, expected to enroll approximately 80 patients who do not receive regular transfusions. The primary endpoint of the trial is the proportion of patients who achieve a sustained hemoglobin increase of ≥1.5 g/dL.

ACTIVATE-T: A single arm trial of up to 40 regularly transfused patients with a primary endpoint of reduction in transfusion burden over six months compared to individual historical transfusion burden over prior 12 months.
In addition to the thalassemia Phase 2 study, mitapivat is being studied in sickle cell disease under a Cooperative Research and Development Agreement (CRADA) with the U.S. National Institutes of Health.
Mitapivat is not approved for use by any regulatory authority. (Article from : www.drugs.com)